8 Tips for Marketing New Homes (And What to Do When You Have None)
June 21, 2021

Volatile pricing. Halting home sale contracts. Low inventory. Supply shortages. And in April 2021, CNBC published an article with bad news, "The surge in lumber prices in the past year has added $35,872 to the price of an average new single-family home." Ouch. In short, new home marketing is facing some challenges this year.
Challenges Facing Builders
As of June 2021, there is staggering demand in Texas's red-hot housing market, and there's a large swell in demand for new construction homes.
According to Bloomberg, "Demand is so fevered -- and construction costs are climbing so quickly -- that overwhelmed builders are suppressing orders and shifting away from fixed prices."
A series of forces are colliding at the same time: supply shortages (namely lumber), worker shortages from the pandemic, and the after-effects of February 2021's deep freeze in Texas. As a result, home prices continue to rise and demand isn't being met.
Home builders and developers are faced with questions:
How do you stay agile and accessible when the price for a new home increases weekly?
How do you maintain leads in your sales pipeline if you can't sign contracts?
Or how do you market homes… when you have no homes?
Here's what we've been testing and what's been working.
Tips for Marketing New Construction Homes
#1. Show off Those Floor Plans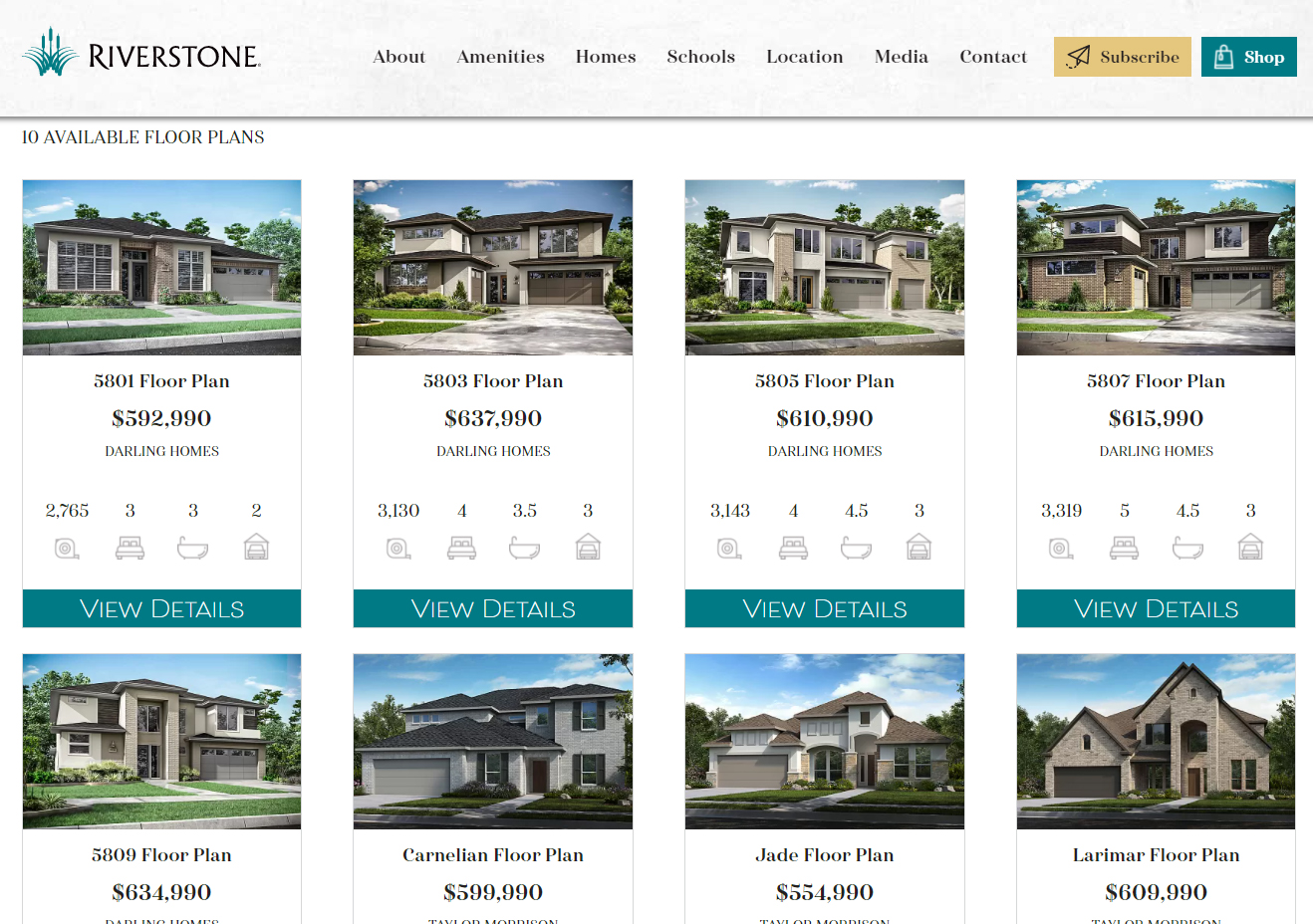 Floor plan module on Master-Planned Community website
When the "available homes" section of the website starts looking sparse, it's time to find different content to keep your website visitors interested. For many of our clients, we've added a Floor Plan module that allows you to search for builder floor plans by bedrooms, bathrooms, and other features.
The floor plan module lets your visitors peruse and dream about the home they want with a slightly different and more aspirational context.
#2. Sell the Romance of Building a Home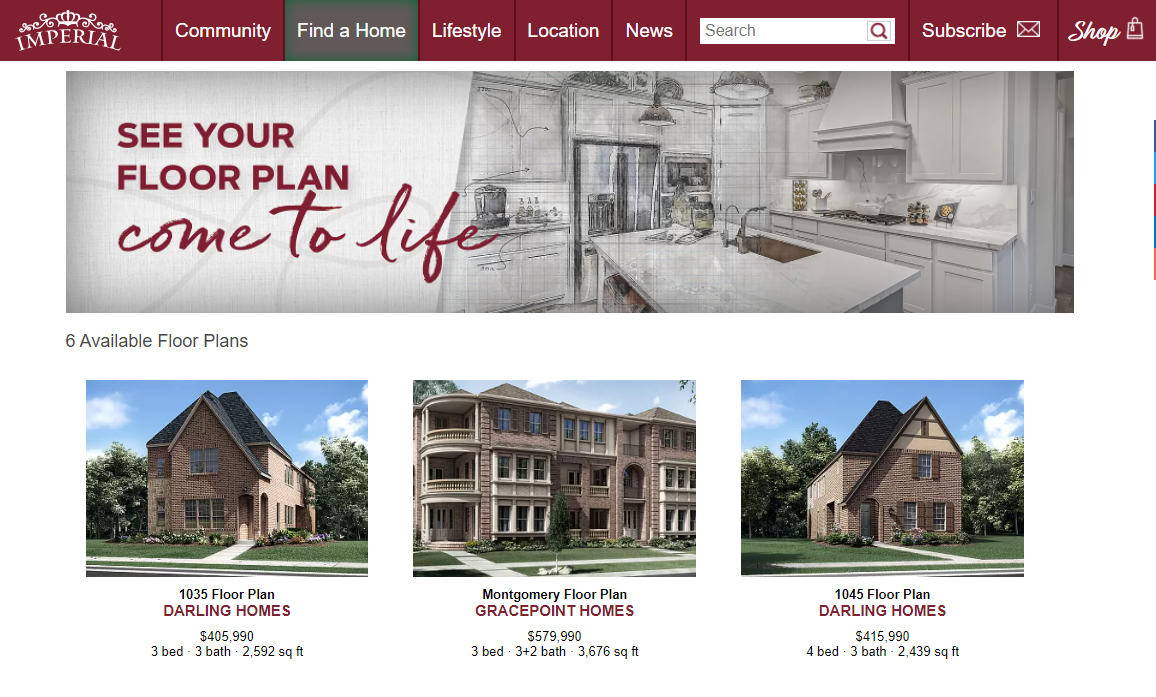 Floor plan module on Master-Planned Community website with header
With the internal name "Floor Plan Romance," we launched a marketing campaign to drum up the appeal of building a home "just the way you like it." In Facebook Ads, the website, and other paid media, we found a way to visually illustrate a floor plan coming to life. We "romanced" the idea of falling in love with a floor plan and the building process.
Adjust your marketing creatives to show off the joys of the design process instead of the quick move-in.
Add Virtual Tours to your website to allow prospects to see homes with similar floor plans
Showcase customers making choices in the design center
Testimonial videos from homebuyers talking about the ease of the home design process
Adjust your marketing to say things like "Floor plans that fit your lifestyle" or "Spacious floor plans, endless possibilities"
Implement interactive renderings that allow customers to change counters or flooring
Highlight the convenience of a new construction home with long form content
#3. Highlight the Community
The home may not be ready yet but, many times, the community will be. Don't be afraid to adjust advertising to highlight your community amenities, location, and lifestyle heavily during the next few months. You can continue to build a strong pipeline of qualified leads who love your development and will be ready to buy a home when one is available.
What makes your development special? The convenient location? Resort-style amenities? Low-cost HOA? Active lifestyle? Miles of trails and parks? Highlight all of the reasons your prospects would want to build a home in YOUR development.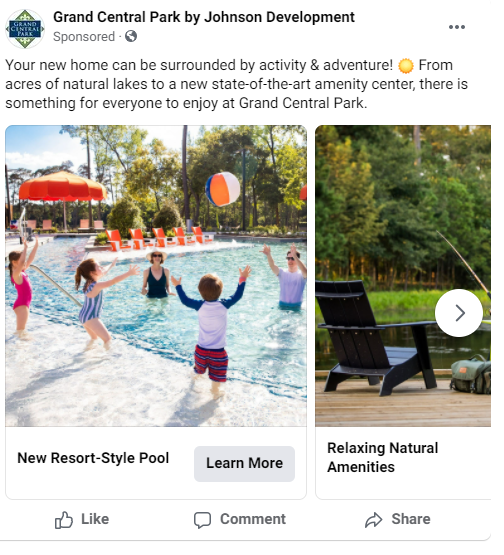 Facebook Ad desktop screenshot showcasing Master-Planned Community marketing
According to a recent report by BuilderOnline, some trends/amenities buyers are favoring include:
Resort-style living
Covered outdoor entertainment
Fitness rooms
Retail centers
Amazon lockboxes/contact-less delivery
Live music and unique engagement opportunities
Onsite restaurants with a bar or healthy cafés
#4. Use Meaningful Call-to-Action Buttons
There was a time when our favorite call-to-action button was:
For many of our client websites and digital ads, we've adjusted the CTA copy to focus more heavily on building a connection with the homebuilder and the community. We've tested buttons like:
Contact the Builders
Connect with Us
Get Directions to the Model Home
Call Today
Contact Us
Start the Conversation
You still need to build your sales pipeline, but the offer will need to adjust. Test various calls to action with the goal of getting your prospect to contact the builder directly and start a conversation.
#5. Get Their Email

Screenshot of Newsletter Sign up Page for Lead Generation
The death of the 3rd party cookie is already forcing businesses to focus on gathering more 1st party data, but finding ways to increase your newsletter prospects is beneficial to the homebuyer as well. When you ask your website visitors to join your newsletter list, offer to send them a monthly list of homes available in the community.
We've tested these CTAs on landing pages and ads:
Join Our Interest List
Sign up for Our Monthly Newsletter
Be the First to Know When New Homes are Available
Sign Up for Builder Incentives & Special Offers
Test landing pages focused on generating leads with the promise of helping these prospects find their new home. You can even offer content, a brochure, or another type of valuable download in exchange for the email.
| | |
| --- | --- |
| | Related Reading: Cookie-Geddon! The Death of the Third-Party Cookie |
#6. Create a Seamless Customer Service Experience
One of your greatest business assets is customer service. According to HubSpot, 73% of customers say they stay loyal to a brand because of friendly customer service reps, and 77% customers are likely to share a positive brand experience with others.
As a result of the pandemic, many homebuilders and developers have instituted some form of online interaction. Whether you invest in an online chat tool, online pre-qualification tools, highly-visible in-line forms, or virtual tours for site-unseen new homes, the homebuying experience needs to be a seamless, personalized, and customer-service focused experience.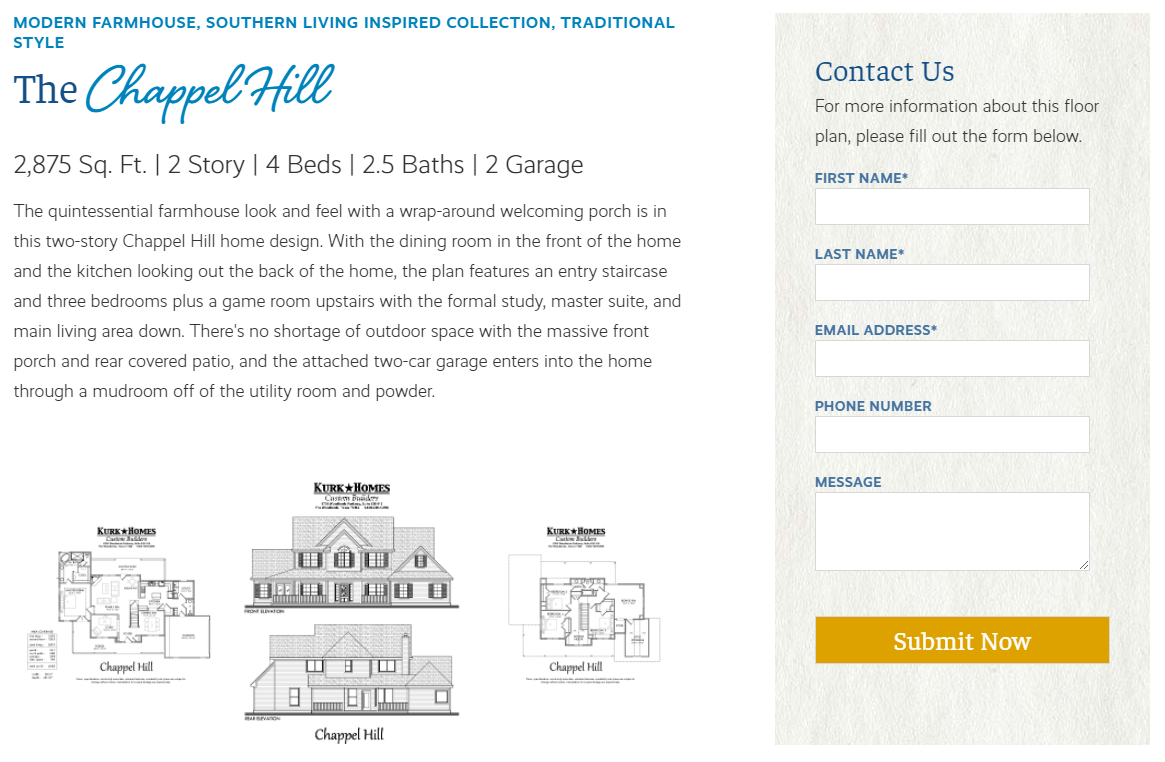 Screenshot of website with in-line form for interested prospects
#7. Slow Your Google Ad Spends During Months of Low Inventory
The Google Ads shopper is intent-driven. They are looking for homes they can buy right now. Search queries like, "new homes near me" or "new homes for sale in Houston" indicate that these users are looking for a new home quickly.
Website visitors from Google Ads convert well for move-in ready homes, so what happens when they can't find inventory on your website?
Optimize your ad dollars in Google by slowing your spend on Google Search and focusing instead on higher-funnel goals for brand awareness. We are currently testing reducing spend on Search and only running Display and YouTube ads on a client with no move-in ready homes. The Display campaigns continue to deliver traffic to the website at a more sustainable rate while the YouTube campaigns contribute brand awareness at a low cost.
#8. Offer Educational Content
Empower your customers while getting them to stay on your website longer. One of our clients launched a series of educational blogs that include topics to help navigate the home building process.
"How to Read a Set of Floor Plans"
"Step by Step Guide to Custom Home Design"
"A Dozen Design Ideas for Your Ceiling"
Year to date, these types of education blogs delivered over 15,000 views with 2.8 minutes of view time. Other types of educational content you can try include articles highlighting your community's nearby amenities or whitepapers that talk about the buying process.
Pivot Your Marketing Strategy
Blue Sky Marketing specializes in digital marketing strategy for some of the top-selling new home developments and home builders in Texas and the nation. Our team is experienced in helping clients highlight and sell new construction homes with marketing messages that matter to homebuyers right now.
We've seen success in implementing floor plan modules, updating ad copy messaging, and adjusting content and media buying as trends and needs change. Let's talk about how our team can help you.
Explore our Blog
The Archives
2023

---

2022

---

2021

---

2020

---

2019

---

2018

---

2017

---

2016

---

2015

---

2014

---

2013

---

2012

---

2011

---

2010

---