Cookie-Geddon! The Death of the Third-Party Cookie
June 08, 2021

A major change is coming to the data landscape and how advertisers will be able to market in the future. In case you've missed it, third-party cookies started phasing out in 2017 and the last major push will be taking place close to late 2023 when Google Chrome finally phases them out completely (Firefox and Safari have already done so). (Updated June 24, 2021.)
.
This change has been a long time coming, so advertisers have been gearing up and pivoting to embrace the change and keep their impression loss to a minimum. Supplemental marketing strategies will have to sharpen and first-party cookies will have a critical rise in everyday use.
What are Cookies?
First-Party Cookies
First-party cookies are small pieces of data that are stored by the website that a user is visiting directly. While the user is on the website, it will collect analytics data to allow for a better user experience. These cookies can include direct contact information gathered from subscriptions and opt-in services.


Example of newsletter footer form to collect first-party data.
Only within your domain, first-party cookies can show you what a user did or clicked on while visiting your website amongst other basic analytics that can help you develop an effective marketing strategy around them.
Third-Party Cookies
Third-party cookies are small pieces of data that are created by third parties to track data points across the web. Including your own domain, these cookies allow you to learn about your visitor's overall online behaviors like websites they frequently visit, online purchases, and possible interests that they've shown on various websites.
These cookies are heavily used for ad retargeting, ad-serving, and cross-site tracking and have become a main source of marketing data. So how are these cookies used?
Personalization
Have you ever searched for something online and then noticed you immediately see ads for it everywhere online? These data pieces recognize device-based habits and serve them the correct ads. The use of personalization is important to advertisers to be able to serve the correct ads to the correct audience.
Audience Targeting
If enough data is gathered on a user, that individual can be added to a targeted list and if enough people are grouped together, you have an audience. Audiences can be transformed to a group of third-party cookies to better target those we want to reach on the open web instead of directly on a website. Effectively grouping and targeting an audience can lead to great success in any given campaign.
Tracking & Measurement
Determining the impact of an ad on a user is always important to see the journey with effective tracking and measuring tools. It's helpful to know if the user was served an ad and then went to the advertiser's website to make a purchase, sign up for a newsletter, or convert in another way.
Why Are Third-Party Cookies Going Away?
Unstable Platform
These cookies were never a great platform to begin with. When you look at it closely, it's clear to see that third-party cookies were never meant to be a wide-scale solution.
They are not transparent in what data is being collected and how it is used
They are device-based instead of people-based
They are not persistent and could be deleted from a browser at any time
They are not common across all channels like phone or TV app activity.
User Privacy
Ads have changed to almost feel intrusive or as if we're being surveilled. We're sure many of us have unplugged our Alexa, turned off Siri, or told Google to stop listening in fear of our words being used to target ads to us the next time we log into Facebook or Instagram. With the end of third-party cookies, the ads that are served to you may not always be 100% applicable.
57% of US consumers would rather protect their online data privacy than to be served personalized ads. 63% also agree that brands are the benefactors of the collected data instead of the consumers themselves. With this information, it's a no-brainer that users want to keep their data close rather than handing it out freely.
How Will This Affect Advertising?
Google Chrome, which holds 67% of users across all devices, will be the last major web browser to eliminate third-party cookies. When this happens, many things will change so it's best to get ahead of it now for the sake of your marketing.
Third-party cookies not only track where a user has been and what ads they have been served but also if they have taken any action with the information. With the deprecation of this cookie, the below facets will need to change:
Ad Serving & Tracking
Behavioral Targeting: Shows ads to users based on their online behaviors and habits. This can also include interest-based targeting and affinity-based targeting like iOS vs Android or a more iconic rivalry of Coke vs Pepsi.
Ad Retargeting: Shows ads to users in other places of the web that have previously visited your website. The goal with retargeting is to bring them back to your website to complete the buyer journey that has been started.
Frequency Capping: A limited number of times an ad can be shown to a user in a given time period. The problem with this going away, is the possibility of a user being overloaded with the ads or becoming fatigued by them.
Audience Extension: Shows ads to a specific audience across multiple different websites. Similar to lookalike marketing.
View-through Attribution: A metric that attributes an ad-view to a specified conversion. This gives marketers a very clear picture of where users end up and where marketing dollars should be allocated.
In Q1 2021, Apple's iOS 14 update implemented a wide-sweeping privacy measure that requires all apps to ask users for permission to track their activity. It included the Facebook app, leading to changes in reporting, attribution, targeting, and conversion tracking. Learn more about Apple's iOS 14 Updates and Facebook Ads.
| | |
| --- | --- |
| | Related Reading: Apple's iOS 14 Update and Facebook: What You Need to Know |
Rise of Costs
Since personalized ads will be scaling down, the cost to enter the pool of advertisers for first-party cookies will be going up. Publishers will have to adapt to the changes and find new and inventive ways to target their users for advertisers to buy in.
Paywalls will also be rising as less content will be readily available to users. Think about a news outlet you previously accessed for free but is now hidden behind a paywall. It will be more difficult for these outlets to be able to rely on the revenue generated from ad space so subscriptions will supplement what ads previously brought in.
As first-party cookies rise to the top, there will be a shift to marketing to those who are on a list of log-ins or are subscribed to a service. More than just retailers like Amazon, this extends to streaming services like Hulu and Twitch who may have their own walled garden which you may have to pay a premium to access.
With these aspects in mind, monitoring the buyer journey and altering your marketing to serve your audience becomes much more difficult and costly. Simple automations may no longer work, attributing sales to specific campaigns will be more challenging, and new conversion goals may need to be set and measured more closely.
But don't worry: it's still not the end of personalized digital marketing.
What will replace the 3rd party cookie?
Even though this one aspect will be leaving us, we still have many data points. Email addresses, credit card numbers, and many more data points can be hashed and uploaded to be data matched to people for ad targeting on Facebook and Google Ads.
Google's Privacy Sandbox will become a beacon of know-how for the Chrome platform. "Privacy Sandbox represents an alternative pathway that Google is providing for the ad industry to take, relying on anonymized signals (that are not cookies) within a person's Chrome browser to profit from that user's browsing habits." So, what about targeting those not on Chrome?
Development ideas are also in the pipeline. New ID attributions will be created to better track the user journey between browsers and channels. Essentially, when cookies go away, we won't be left high and dry. Many solutions will come into play to replace them. Expect many publishers to come forward with new and inventive ways to target an audience.
First-party cookies with login and registration data could soon be coming. In this data-tracking scenario, users would have to provide their email address for the purpose of identifying themselves to be able to use the open internet, thus allowing publishers to track that data. With this, you can choose whether you'd like to protect your data or allow advertisers to serve personalized ads to you.
As AI technology and machine learning progresses beyond building automated robots, the data landscape continues to rage on with predictive audiences. Granular consumer behavior like automotive purchases, OTT consumption in platforms, and publicly available financial data will all influence where a user is placed within ad targeting avenues.
In May 2021, in response to growing concerns for privacy, Google announced improvements in automation with better performance, inviting advertisers to lean in to their AI's ability to tap new pockets of growth. As consumers demand more respect for online privacy, major digital advertisers like Google will find ways to develop privacy-safe advertising.
What Are The Next Steps?
Don't panic. Start planning.
1. Audit your ad sets
Marketers need to go through ad sets and really understand how many impressions may be lost to current third-party cookies and behavioral targeting. Without an audit, you may get an unwelcome surprise to who is left in your audiences to market to.
2. Leverage first-party data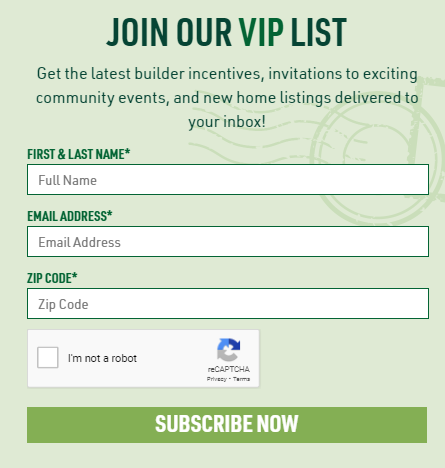 Example of newsletter exit pop-up form to collect first-party data.
Get a plan in place on how you're going to market to first-party cookie data and where the data will be stored. This is imperative to making sure your marketing efforts don't get lost along with the third-party cookies. How can you start generating more leads now? How can you improve your website's user experience to capture more newsletter sign-ups and form fills?
3. Form marketplace partnerships
Growing relationships and partnerships with advertising publishers is key to a successful marketing plan. Without open channels of communication, you may not know of the upcoming developments in the marketing world or may miss out on special deals. Start doing vendor research to find partners in media like geotargeting, IP-Targeting, or CTV.
4. Research your audience
Really dig down and understand who your audience is, where they come from, and what gets them buying into what you're selling. It's one thing to know that someone bought your product but it's another to know why they bought your product.
5. Watch cookie-less signals
Look for probable data like locations and mobile carriers to better determine where your users are coming from. An older phone with a less-known carrier may suggest a certain age or demographic in your audience.
All of these steps will get you on the right track for your impressions to continue hitting your target audience. Don't wait or you could be left behind.
How We Can Help BEFORE Cookie-Geddon
At Blue Sky Marketing, we're taking the necessary steps to make sure clients are well served on multiple platforms. We know what it takes to adapt to an ever-changing world of marketing and the policies that form our messages.
If you're unsure about the next best step to take, let's talk. We can help get you on track for marketing success.
Explore our Blog
The Archives
2023

---

2022

---

2021

---

2020

---

2019

---

2018

---

2017

---

2016

---

2015

---

2014

---

2013

---

2012

---

2011

---

2010

---