Google Officially Begins Transition to a Mobile First Index
November 16, 2016

Google officially announced in a blog post on Nov. 4 they are now switching to a mobile first index for their search engine results page.

While this a major change in how Google displays search results to users, it is one that has been a long-time coming. Read more to learn about what this means for you and your marketing endeavors.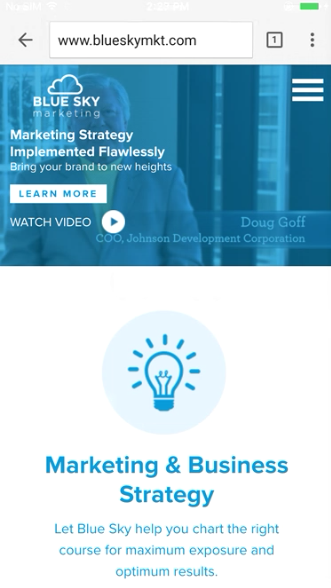 What Does This Mean?
The Google search engine results page displays links based on user queries. Simply put, if given a choice from between displaying a link for a desktop version or a mobile version of a website, the mobile version of a site will be shown to users. Google will also use the mobile version of all websites to determine rankings on the search engine results page.
It is also worth noting that there will be a single index, not one based on mobile and another one based on desktop that switches based on the device of the user. The mobile index is THE index.
Why Is Google Making the Change?
Simply put, mobile is the future. According to Google statistics, users are conducting the majority of searches from mobile devices, with nearly 40% of people searching on a smartphone. Also, as we reported in our blog on the most recent Google Partners event, mobile media consumption has been steadily rising while consumption for all other media has remained stagnant.
How Will This Change Affecting My Marketing Efforts?
On the surface, this change will go relatively unnoticed by the consumer. However, brands must look at their current website presence to determine if any change is needed.
For many brands, the switch should have no negative impact. If your brand employs a responsive site design with identical (or nearly identical) content between your desktop and mobile views you should be fine.
The change will affect brands that employ a separate mobile and desktop with different content and/or functionality elements. Brands employing this tactic need to be quick to optimize their mobile website offerings before this change negatively impacts their search rankings.
Blue Sky Marketing Can Help
Time to look at your website with a fresh eye? Blue Sky Marketing are digital marketing experts who can help to choose and implement the best plan for your mobile-focused website in 2017. Our team has built over 100 websites since our founding; we have a bespoke solution for you.
Contact Blue Sky Marketing today to discuss what we can do for your business.
Explore our Blog
The Archives
2022

---

2021

---

2020

---

2019

---

2018

---

2017

---

2016

---

2015

---

2014

---

2013

---

2012

---

2011

---

2010

---