Websites: Smart Execution Brings Strong Results
July 08, 2015

It's no secret that in our digital age a website is often the first impression a consumer receives when searching for a product or service. Websites must not only be visually appealing, but need to easily guide users and function across all mobile devices. We recently had the opportunity to work with a master-planned community in North Houston to bring them a refreshed website that yielded both results and emotion as a part of a rebranding campaign. Welcome to Valley Ranch.
A Piece of the Rebranding Campaign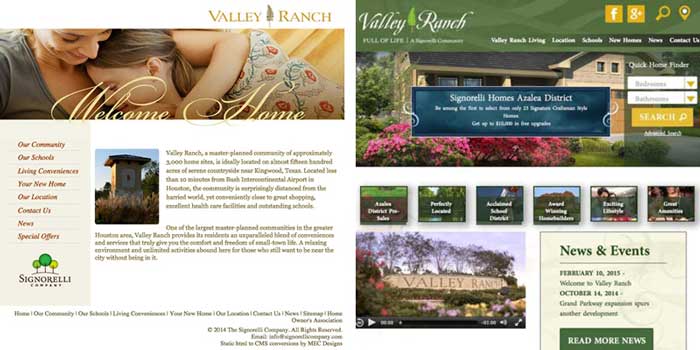 Valley Ranch is a 1,400-acre master-planned community in North Houston with homes, shopping, dining, entertainment, offices, medical facilities and schools, all united by a series of public parks, lakes and trails. On the cusp of its newest developments including a number of new model homes and the 240-acre Valley Ranch Town Center, the community was re-branded in 2014, with a new logo and tagline, "Full of Life". This refreshed branding aimed to tell a story about experiencing life to the fullest and raising families in a place that would always be called home, but it was in need of a redesigned website to accompany its new look and goals.Take a look at the Before and After of Valley Ranch's We were honored to lead the development of this website which was re-launched in February 2015. The new site now has an improved, easy to navigate design that is adaptable to all mobile devices while seamlessly reflecting the creative objectives and branding.
Target Market and Usability Updates
For a better user experience the following features were added to the website:
Home inventory search Quick Home finder Community amenity details Adaptable to all mobile devices
When designing the form and function of this website, we also kept in mind the community's target market: individuals and families who are actively searching for homes in Valley Ranch's price range of $180's - $400's. In conjunction with the branding, these prospective buyers are also focused on a lifestyle with an ideal location for work and play, surrounded by a wealth of community and area amenities.
The Results
Since its launch the Valley Ranch website experienced positive results in three key areas:
Time on Site for Direct Traffic increased 45.72% indicating a better consumer experience. Bounce Rate decreased 66.62% indicating a better first impression. Returning Visitors increased 29.6% indicating the addition of new content and inventory provided value. Take a look at Valley Ranch's website here and see the importance of a crisp website approach. If your company could use marketing counsel or a fresh brand perspective online, contact us at Blue Sky Marketing.
Explore our Blog
The Archives
2022

---

2021

---

2020

---

2019

---

2018

---

2017

---

2016

---

2015

---

2014

---

2013

---

2012

---

2011

---

2010

---