Case Study: Building Excitement around A New Homes Sales Event
July 18, 2014

Developing campaigns involving multimedia promotion is always a unique, but exciting challenge that the Blue Sky Marketing team loves to embrace. Below is a case study featuring the hard work of the Johnson Development Corporation and the promotion for its inaugural event "Houston's Largest Home Tour" in 2013 which won a 2014 AMA Houston Crystal Award.
Situation — How To Drive Home Sales in a Recovering Housing Market
The Johnson Development Corp. is one of the nation's preeminent land developers, having cultivated a strong reputation for vibrant, responsible development and impeccably designed communities since 1975. The challenge was to increase new home sales in The Johnson Development Corp.'s seven Houston-area master-planned communities amidst new entries in the market and a reduced marketing budget due to the downturn in the housing market with a month- long citywide tour of homes event.
Marketing Objectives
Three primary objectives were the focus of the home tour campaign:
Improve Awareness of Johnson Development Communities - Increase awareness of The Johnson Development Corp. as one of the Houston's premier real estate developers.
Increase Online Home Searches and Community Traffic - Increase the website traffic to a custom-developed microsite that gave details about specially planned activities, tour maps, citywide home search and virtual tours. Visits here would push to onsite community visits, whose goal was a 50% increase in community traffic.
Increase Home Sales in the Busy Spring Buying Months - Many homeowners purchase in the late Spring or early Summer. A major objective of this campaign was to generate qualified leads that would in turn make their purchasing decision in April or May. The goal was to increase home sales by 75% over the previous April.
Strategies and Tactics — A Unifying Campaign Across 7 Communities
Johnson Development consolidated marketing for the seven communities to create a consistent campaign, "Houston's Largest Home Tour," presenting 7 master-planned communities, 84 model homes, 327 new homes ready for move-in and more than 20,000 decorating ideas: all from one developer. This single, focused event and supporting marketing campaign included logos for all 7 communities on tour and a call to action to visit JohnsonDev.com to download tour maps and list of free events on the weekends in April across the city.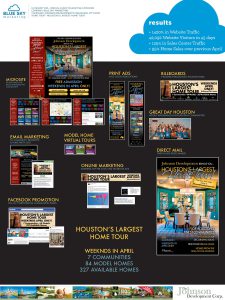 Multimedia Advertising Campaign in the Entire Market Print, Digital, Out of Home, Television, Direct Mail Johnson Development utilized multimedia advertising to spread the word including: a month-long sponsorship of Great Day Houston (morning show on KHOU-TV), 95,000, four-page direct mailers to targeted residences, 9 billboards, banner ads in email and websites, magazine ads, a pay-per-click search engine marketing campaign and more.
Online Marketing Campaign Email Marketing & Social Media Outreach
Approximately 20,000 e-mail blasts were sent to all communities' prospects and Realtors to generate awareness about the Home Tour and driving traffic to the Home Tour microsite. In addition, there were regular posts on all communities' Facebook and Twitter profiles with events, photos and links back to the microsite. Finally, Social Share buttons were present on the Home Tour microsite, making it easy for viral sharing on social networks.
Message Alignment — Not Just Telling, But Showing the Story
Johnson Development used sophisticated yet approachable images highlighting the communities, available homes, the desirability of their locations, schools and amenities and the fun family environment that each master-planned community fosters. With online video content and television interviews with current residents, each community was able to tell their story.
Results — Even Better Than Expected
Johnson Development saw an overwhelming positive response from this campaign and goals exceeded all expectations. Here are the highlights we are proud to share: + 1420% in Website Traffic 42,092 Website Visitors in 45 days + 125% in Sales Center Traffic over previous April + 95% Home Sales over previous April The Blue Sky Marketing team is honored to have taken part in the digital strategy in Johnson Development's event promotion that was a 2014 AMA Crystal Award winning Special Event Marketing Campaign. If you are looking for a partner in online marketing strategy, marketing strategy development, email marketing or website development, contact us to see how we can help.
Explore our Blog
The Archives
2023

---

2022

---

2021

---

2020

---

2019

---

2018

---

2017

---

2016

---

2015

---

2014

---

2013

---

2012

---

2011

---

2010

---