Fit Couture - Award-Winning Email Marketing Campaign Case Study
June 20, 2015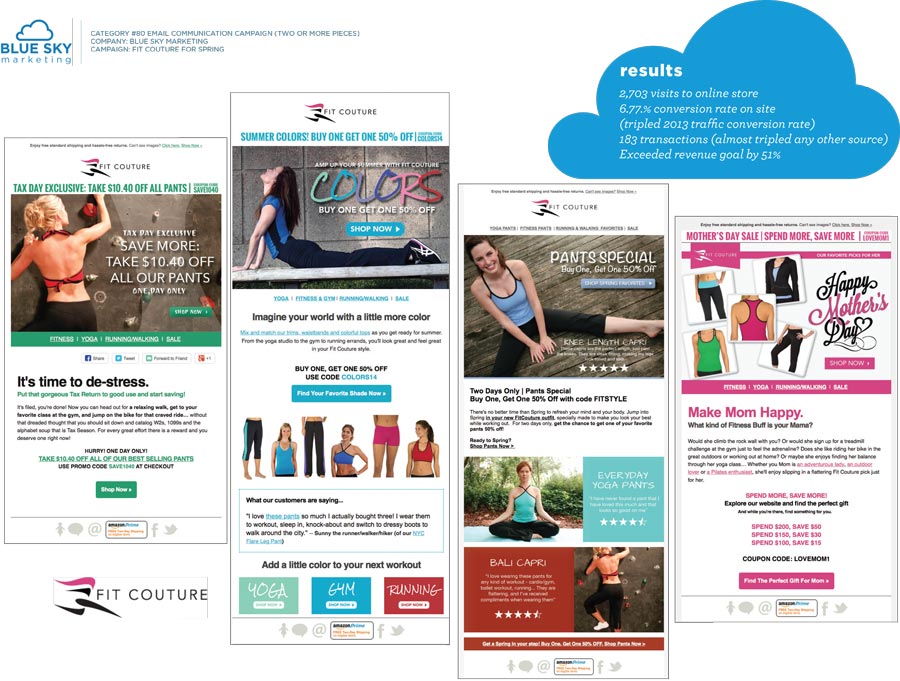 Thinking of starting an email marketing campaign for your business? Here's the email marketing campaign that won this year's AMA Houston's Crystal Award for Email Communication Campaign for a second year in a row. We're proud to have partnered with Fit Couture, an online women's fitness clothing retailer, to create such a successful campaign. Here's the case study for the award-winning work done for the Spring Email Marketing Campaign for Fit Couture.
Situation/Challenge: Drive Sales During Traditionally Slower Months
Fit Couture is an online-only store of woman's fitness fashion, with designs to compliment the figure of any woman who wants to look their best when they exercise. Though competing against many large national brands, Fit Couture enjoys high customer satisfaction for long-lasting quality, flattering pants, tops and jackets. Key departments for the store are yoga, gym and running.
The challenge was to engage a database of previous customers during the Spring, a traditionally slow retail season, with key brand messages to continue sales objectives.
Objectives
1. INCREASE WEBSITE VISITORS TO REPLACE COSTLY PPC TRAFFIC - Create a compelling email marketing campaign with key brand messages and captivating imagery to drive qualified traffic to various areas of the site and drive category page views, thus replacing less qualified traffic generated the previous year with costly pay per click advertising. The goal was to double the conversion rate of the previous Spring's PPC traffic.
2. INCREASE SALES - Through style recommendations, timely email themes and a strategic promotional plan, increase sales on FitCouture.com to meet a Spring revenue goal from these emails.
Strategy/Tactics
The email list of previous customers had laid dormant for almost a year prior, with no contact until the previous Holiday season, so Fit Couture wanted to continue to reengage these buyers with a series of eight emails during the Spring season. The emails served to recall the brand and deliver key brand messages coupled with limited-time promotional codes that would create a sense of urgency to click to shop.
>> INCREASE WEBSITE VISITORS
A secondary goal of the campaign was to replace the traffic generated by PPC ads through clear and direct calls to action and hitting on the various lifestyles -- yoga, workouts at the gym and running -- so that each segment would reengage with the brand and browse for pieces in those categories, even after an absence from the online store for some time.
>> INCREASE SALES
The primary objective of the campaign was that through increasing engagement with the email marketing messaging as well as a strong promotional plan, these previous customers would return to the online store and add more Fit Couture pieces to their fitness wardrobe as well. The promotions aimed to create a sense of urgency with sales only lasting a few days at a time.
Message Alignment
As with any higher-end product, sales should be attached to an emotion evoked in the customer, so Fit Couture used lifestyle messaging and images to create strong customer affiliation with the brand. By varying the line of clothing but always calling out key brand messages about product quality, flattering fit and feeling good while being healthy, Fit Couture aligned itself with customer goals, speaking to their needs.
Results
1. INCREASED WEBSITE VISITORS
As a result of the 8 emails, Fit Couture received over a healthy flow of visits to the online store, accounting for 19% of total website traffic. More importantly, email traffic replaced costly PPC traffic with more qualified traffic, with a 6.77% conversion rate, more than triple the previous year's PPC traffic's conversion rate.
2. INCREASED SALES
Fit Couture transactions attributed to email marketing in Spring 2014 almost tripled any other source. These emails were incredibly profitable, exceeding the revenue goal by 51%.
If you'd like help creating an email marketing campaign for your business, contact Blue Sky Marketing today. Our team is excited to help businesses discover successful online marketing programs to help grow their business.
Explore our Blog
The Archives
2023

---

2022

---

2021

---

2020

---

2019

---

2018

---

2017

---

2016

---

2015

---

2014

---

2013

---

2012

---

2011

---

2010

---