ClickZ NYC 2015 Day 1 Wrap Up
May 20, 2015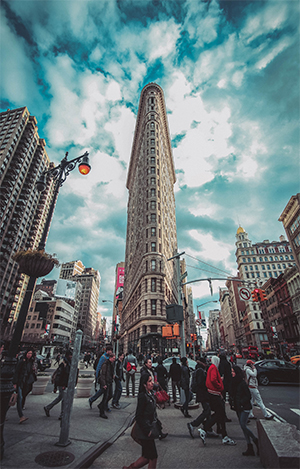 Recently I had the pleasure of attending the ClickZ conference in New York City. For a marketing nerd like myself, it's always great to get out from behind the desk and rub elbows with your peers while listening to industry leaders. This was my first ClickZ conference but I had attended the previously branded name of Search Engine Strategies (SES) conference in San Jose a few years prior. Despite the name change the quality of speakers, accommodations and food remained the same: top-notch. The variety of speakers at this year's conference featured industry leaders like Google and Yahoo and those speaking about Google and Yahoo but it also featured interesting keynotes like a recap on the online marketing, social media marketing and web development that went into this year's State of the Union address. Political allegiances aside the current POTUS and his media team have done some pretty amazing things. Some that get noticed (2008 Hope campaign) and some that don't (White House Hackathons).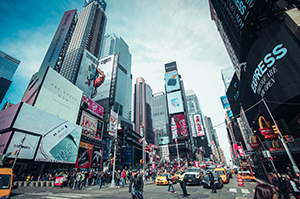 Hosted at the New York Marriott Marquis in Times Square, the conference got underway with a keynote from Tim Goudie, Director of Social Media, Sustainability, The Coca Cola Company. His presentation was about branding the Coca Cola product world wide and turning local women in poverty stricken areas as brand ambassadors. He then went on to talk about how Coke harnessed the power of paid social media to get their messages out. It was refreshing to hear such a large company not only embrace what we as marketers preach but to also monitor and see that digital marketing is an extremely viable form or marketing. I spent most of the first day in the Google room. Let's be honest, the majority of what I do on a day-to-day basis is send offerings to Google in hopes that they rain down praises on us. They make the rules and we live by them--not just us as marketers but other titans like Microsoft and Yahoo. The presentations were all very informative The room was a little too small for the audience they attracted, but they did have unlimited gummy bears! Topics covered by the team at Google ranged from basic take-aways to some higher level stuff. All of which can be found here g.co/GoogleBP. Also, make sure to download all of the check lists they provide. Use them to make sure you're crossing the t's and dotting the i's. Here are some highlights from the Google room:
Using Remarketing on Google Display to Re-engage Past Site Visitors
If you're in charge of your company or agency's AdWords account, this presentation was ripe with great information on how to harness Display in Google AdWords. If you're not familiar with the term remarketing or retargeting it implies means what it says. You use your ads to remarket to past site visitors. If you aren't running any remarketing, you should look into it. It's a great way to get a second or third look from a site visitor. http://adwords.blogspot.com/2015/03/best-practices-re-engage-past-site.html
Better Together: AdWords and Google Analytics
Let's face it, the basic rules of online marketing haven't changed all that much. Build great sites with informative information and be nice. What has changed is how we analyze things. If you're running AdWords and your Analytics account is not connected to AdWords, stop reading this right now and connect them! This is a really great presentation to help you analyze your AdWord traffic and make informative changes to your marketing.
Keywords, Ads & Quality Score: Rethinking the So-Called Basics of Paid Search
This session was broken up into 3 sessions. First up was Keywords. This is a great refresher for those of in the business and a great foundation for those just starting out. Keywords are the most important thing in any online marketing. Making sure your keywords align with your business goals ensures you get the people you want to your site. https://support.google.com/adwords/answer/6167110 Next up was Ads. Once you've declared your keywords, you'll need to create engaging ads to get traffic to your site. Writing simple and compelling copy helps searchers realize before they click on ad if you are what they're looking for. Using Ad Extensions also further solidifies this. Ads are the doorway to your site, you want to make sure they tell the right story. https://support.google.com/adwords/answer/6167122 Quality Score is an extremely important part of the mix. A lot of factors tie into Quality Score: ad relevance to a search, click-through-rate, bounce rate, landing page copy to name a few. Staying on top of Quality Score helps you weed out terms that cause more harm to your account than success. Quality Score is ranked out of 10. Any term 5 out of 10 and above are preferred. Anything below that causes your account to be charged a premium every time that term triggers a click. I can't stress how important Quality Score is. Make sure you stay on top of it. https://support.google.com/adwords/answer/6167123
Day 1 Recap
For a nerd like myself, the Google room was like being on the Millennium Falcon. I ventured into some of the other rooms to take in what my peers had to say.
ClickZ Day 1 Presentations:
http://www.clickzlive.com/newyork/agenda-day1.php If you would like a copy of any of the presentations I did not link above, shoot me an email here: jason @ blueskymkt dot com. Check out ClickZ NYC Day 2 Recap.
Explore our Blog
The Archives
2023

---

2022

---

2021

---

2020

---

2019

---

2018

---

2017

---

2016

---

2015

---

2014

---

2013

---

2012

---

2011

---

2010

---