How to Optimize Your YouTube Videos for SEO [Checklist]
September 08, 2021

When you conduct a search online, chances are that some of the search results Google returns to you will include videos on YouTube. Try it.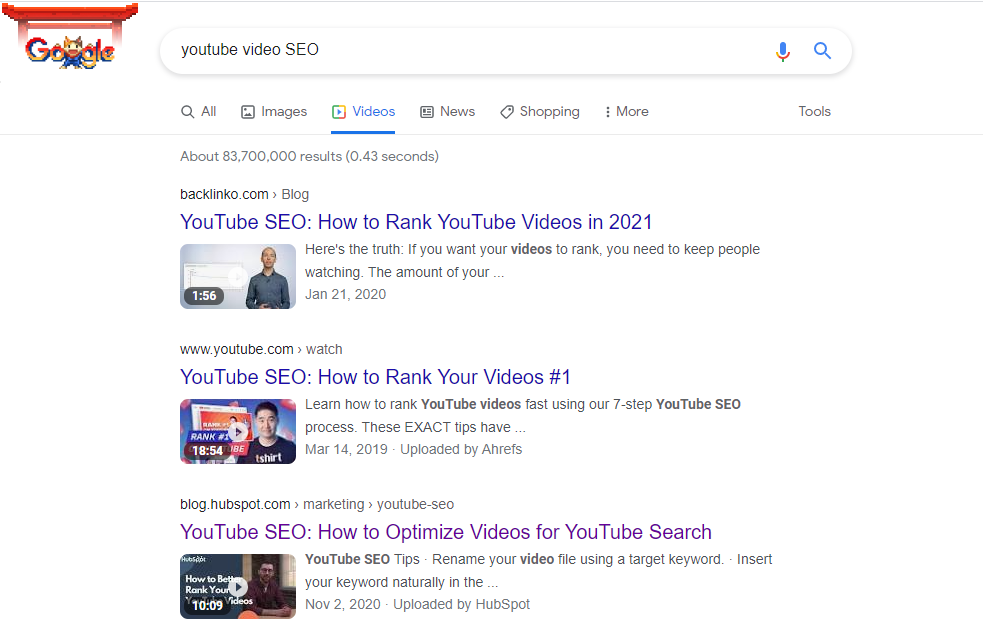 Your videos can be a gold mine of valuable SEO information – take advantage of your exposure on YouTube and make sure your YouTube videos are optimized to be found when people are looking for a product just like yours.
YouTube Video SEO Checklist
We've included a checklist you can go through for each video you upload to make sure your videos are optimized for SEO. We've pulled suggestions from SEO industry leader Neil Patel and from HubSpot's Blog for a consolidated checklist.
Change the file name of your video to include a target keyword BEFORE you upload it to YouTube.

Example: If the target keyword is "new homes in Conroe, TX", rename the video file as "New Amenities – [Community Name] New Homes for Sale in Conroe TX.mp4" before you upload it to YouTube.

Insert your keyword naturally in the video title. It's recommended not to exceed 60 characters for your YouTube video titles.

Example: If the target keyword is "virtual tour", name the video something like, "Take Virtual Tour of [Floor Plan Name] by [Builder Name]"

Optimize your video description.

We recommend front-loading the description with the most important information, like CTAs, crucial links, and keywords within the first 100 characters of the description.

Use tags sparingly with popular keyword related to the topic.

Per the most recent video tag documentation by YouTube Help, "Tags can be useful if the content of your video is commonly misspelled. Otherwise, tags play a minimal role in your video's discovery."

Add a category to your video.


Find it in the video's advanced settings area.

Use custom video thumbnails. Only verified accounts can upload custom video thumbnails, but they are an important part of video discovery.

Dimensions: 1280x720 or a 16:9 ratio
Add your target keyword naturally into the video thumbnail file name

Use an SRT file to add subtitles/closed captions. They provide great SEO benefits because they're indexed by Google and crawlable. HubSpot shares a great article about what SRT files are and why they're important for video.
Test adding cards and end screens to your YouTube video to increase your YouTube channel viewership. These are the callouts that share related and recommended videos to keep viewers on your channel. YouTube's Creator Academy shares excellent tips for creating and implementing cards.
Why Optimize YouTube Videos for Search?
According to Alexa's "The Top 500 Sites on the Web," YouTube is the SECOND most visited website in the world. The citizens of the internet go to YouTube every day to find information and be entertained. The two main reasons to invest time in optimizing your videos include:
Discoverability – Adding keywords, optimizing your file names, and adding rich context to your video allows it to be discovered on Google SERP and YouTube.
Backlinks to Your Website – Always add a link to your website in your YouTube description. YouTube is a strong backlink source to point back to your website.
Unlock YouTube's potential as a powerful search engine by giving as much relevant context to every video you upload.
| | |
| --- | --- |
| | Related Reading: SEO Best Practices for Your Blog |
Need a YouTube SEO Strategy?
YouTube's not just a world of cat videos and cooking tutorials. It's a hub of content that millions of people use daily to look up information. Whether they find you on Google SERP or when they're searching within YouTube, your videos have the potential to answer their questions IF they can find them.
Let's talk YouTube and how it fits into your overall SEO and Search Engine Marketing strategy. Contact Blue Sky Marketing today.
Explore our Blog
The Archives
2023

---

2022

---

2021

---

2020

---

2019

---

2018

---

2017

---

2016

---

2015

---

2014

---

2013

---

2012

---

2011

---

2010

---