Blue Sky Marketing Takes Home Two ADDY Awards
March 01, 2021

CONGRATULATIONS ON YOUR SUCCESS AT THE 2021 AMERICAN ADVERTISING AWARDS!
You should be proud that your work was acknowledged by the judges, especially during the challenges presented by 2020. You are indeed one of Houston's Creative Rock Stars!

These were nice words to wake up to! The Blue Sky team is proud to announce that we've been awarded two ADDY Awards by the American Advertising Federation – Houston.
Houston's 59th Annual American Advertising Awards was a virtual award show featuring the talents of Houston's best creative minds, and we'd proud to be included. Our award-winning entries were for the following categories:
Digital Creative Technology: User Experience (Silver Award)
Websites – Consumer (Bronze Award)
The winner? The Harvest Green website, redesigned and launched in 2020.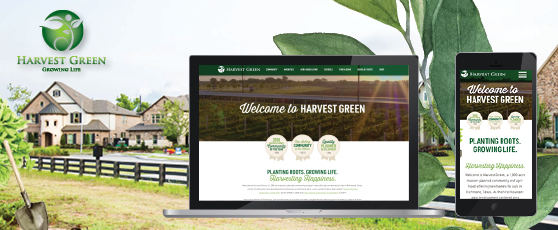 Thank you very much to Haley Peck of Harvest Green by Johnson Development for the privilege to work you on an amazing project and thank you to AAF-Houston for recognizing creative excellence in Houston.
Explore our Blog
The Archives
2021

---

2020

---

2019

---

2018

---

2017

---

2016

---

2015

---

2014

---

2013

---

2012

---

2011

---

2010

---