Does Your Business Need Reviews? Spoiler: Yes
February 22, 2021

In the digital marketplace, reviews have never been more important. They can make or break a consumer's decision to choose you or your competitor. Whether they are going to a new restaurant, figuring out where to live, finding a dentist, which homebuilder to use for a new home or deciding where to stay on their next vacation, their first stop, more and more, is directly to your reviews.

Within reviews, customers are looking for reports about your business's quality of service, reasonable prices, location, and customer service. No matter your industry, reviews are important, and your business needs them to stay competitive!
How Important are Reviews for Business?
According to Podium's 2021 State of Reviews, reviews are 2x more likely to be an important factor in choosing a local business than loyalty. That means that even if you have a devoted customer base, if your competitors have higher star ratings and their reviews are recent, relevant, and high quality, you are at risk of losing their business.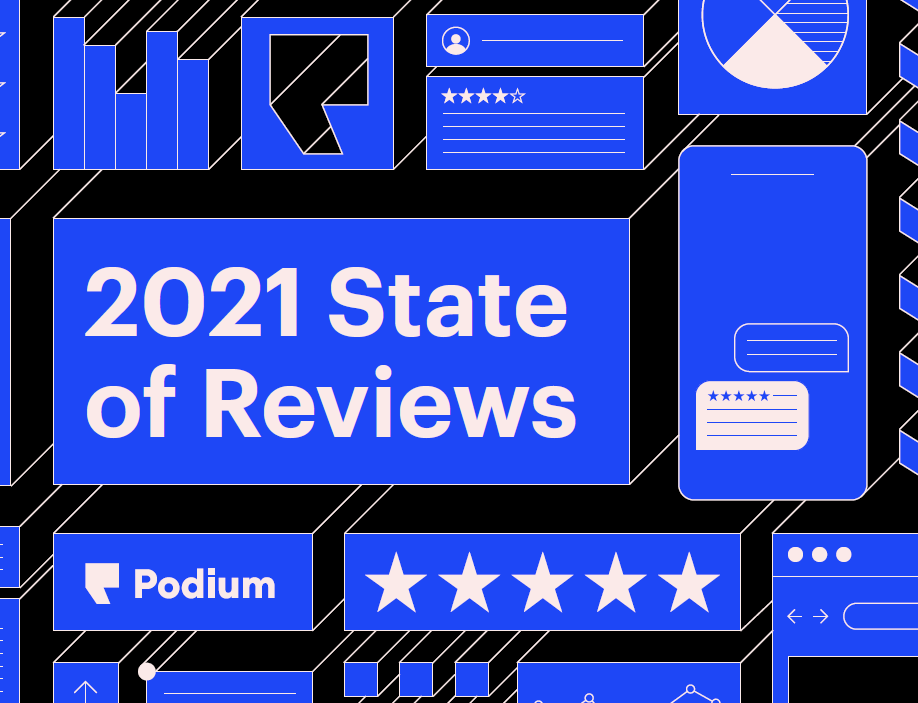 Source – Podium 2021 State of Reviews
The same report says that reviews influence 88% of consumers in discovering new local businesses. Even before a consumer begins considering your business's products and offerings, they already want to know what other people are saying about you before learning more about you.
To avoid this, it is crucial that you make it as easy as possible for your customers to leave reviews about your business - positive or negative.
How Do Bad Reviews Affect Your Business?
If a customer leaves a bad review, they are likely to have experienced something, or someone, that did not meet their expectations. In Podium's report, they've stated when customers do leave negative reviews, 85% of the time it is due to their experience with an employee.
Though negative reviews can strike a critical blow to your online reputation, they also offer an opportunity for you to improve your business. It may be as easy as a discussion with your team about the importance of customer service, or you may need to come up with some solutions for streamlining operations or processes to prevent long waits. Either way, your customer's review can provide insight about your business that you may not have considered before.
Must Do: Publicly Address Bad Reviews
Whether it be the attitude of an employee, the quality of a purchase, or an experience that did not go as anticipated, publicly addressing bad reviews gives you a chance to show you are taking your customer's issues seriously. Suggest taking the conversation offline to discuss their issue further. The review will remain on your profile, but customers in the future will be able to see how your customer service responded to the issue.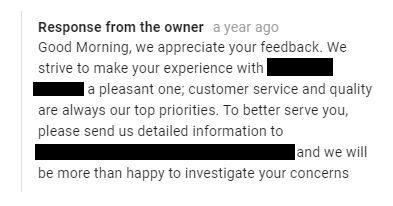 56% of customers say that a business's responses to reviews have changed their perspective on the business. It's clear that ignoring your positive or negative reviews has an impact on how customers view a business, so be sure and take this into consideration the next time you are managing your business's reviews.
5 Ways to Get Online Reviews for Your Business
The short version: make it easy for your customers to leave reviews.
Claim Your Profiles
Claim ownership of your profiles, all of them. That means Google, Yelp, Social Media, industry specific sites, etc.

Google My Business Verified Profile

Yelp Claimed Profile
This gives you the ability to leverage full control of your business's online identity. For example, Yelp and Google My Business allows you to control your business hours, contact information, and respond to online reviews.
Ask for Reviews
Ask your best customers, stakeholders (like Realtors) or residents if they would be willing to submit a review if they enjoyed their experience. If you've delivered excellent customer service and product, your chances of converting your customers into promoters increases. Delighting your customers with solutions that enthusiastically solve their problems helps build a loyal community who will be more willing to leave glowing reviews.
Add Links for Reviews on Your Website
Add links to your Houzz, Google My Business, or Yelp profile to your website. Place them somewhere intuitive, like the "Contact Us" section or the footer of your website. If your customers want to leave reviews without being prompted, make it easy for them to find your profiles.
Follow Up When You Say "Thank You"
Send a "Thank You/Leave a Review" follow up email. After having a good experience, 36% of customers are more likely to leave a review if they receive an email inviting them to. The timing of your "Thank You/Leave a Review" email can be automated to send to your prospects and customers at the best time. Is this when a project is complete? Is this a few days after project completion? Decide internally when you feel your customers will be most satisfied with the service given and automate your follow up emails.
Make It Easy for You: Get the Right Tools
Tools like Podium, ReviewPush, Yext and SEM Rush make it easy for customers to rate and review your business. These "get more reviews" tools can automate the process of sending review requests via text or email, aggregate and publish reviews, and allow you to easily respond to all reviews sent promptly.
Developing a Strategy to Build Reviews?
If this sounds overwhelming and you already have enough on your plate, let's talk. Blue Sky Marketing has a proven record of connecting businesses to the right tools to garner more reviews and build their online presence.
Our team can help you develop a customer retention and review strategy while you focus on the business! Let's connect.
Explore our Blog
The Archives
2021

---

2020

---

2019

---

2018

---

2017

---

2016

---

2015

---

2014

---

2013

---

2012

---

2011

---

2010

---