Blue Sky Marketing is Now a HubSpot Platinum Partner
February 12, 2021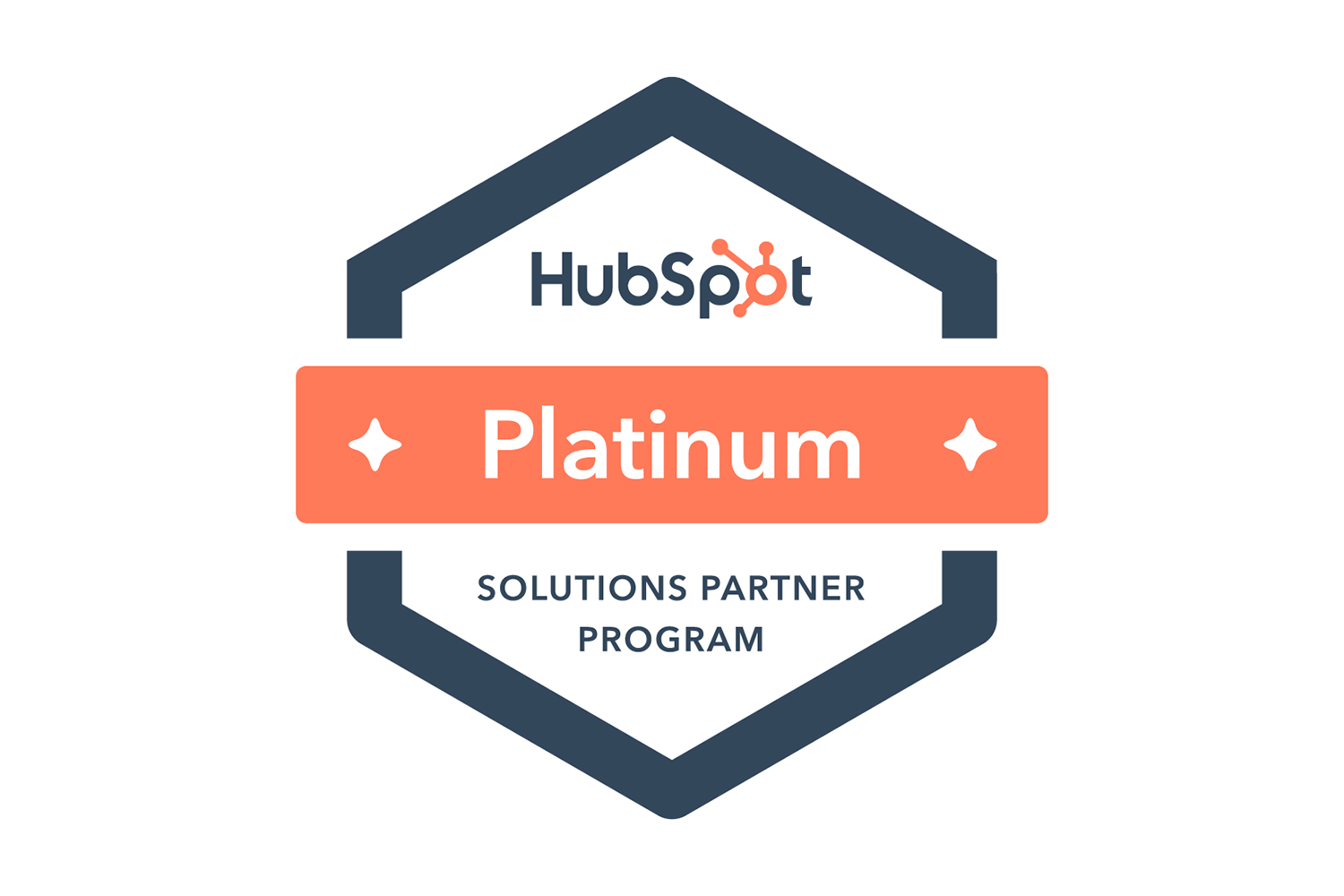 Blue Sky Marketing is pleased to announce that we are now a HubSpot Platinum Partner, meeting HubSpot's requirements of excellence in:
Onboarding
Certifications
Growth
We're proud of our proven record to implement HubSpot marketing for developers, builders, and more industries. Reaching this new tier is a badge of honor, proving our team's expertise in implementing solutions for our clients for lead generation, revenue tracking, and campaign management.
What is HubSpot?
HubSpot is a powerful CRM built upon the concept of inbound methodology. It's a tool that allows you to attract new leads, engage with them and delight them into converting into a customer and promoter for your business.
HubSpot's Flywheel model explains that when you align your inbound strategy to your business goals, you can use the momentum of happy customers to drive referrals and repeat sales.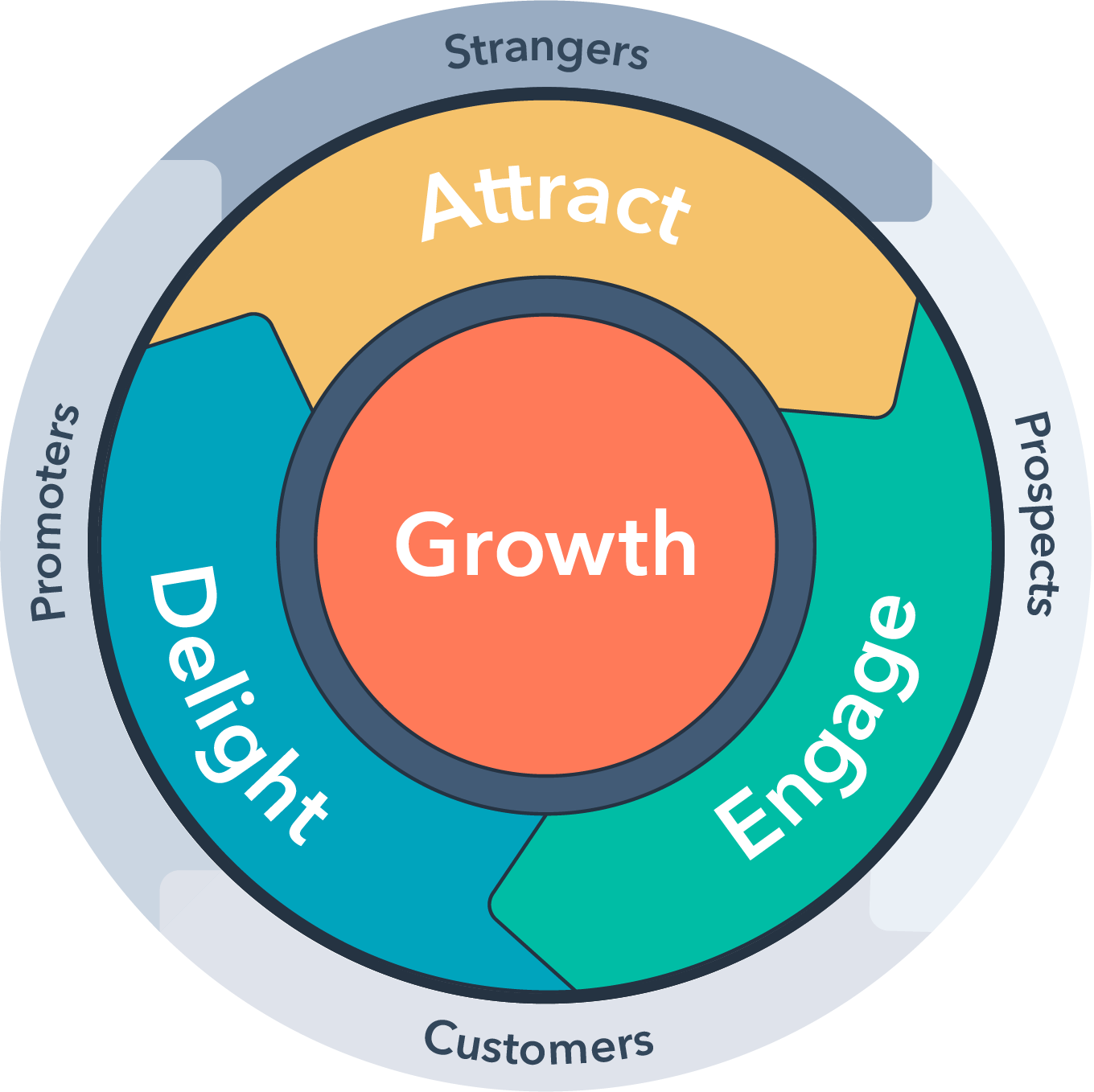 Source: HubSpot: The Flywheel
What Does HubSpot Do?
It's more than methodology: it's a powerful CRM (customer relationship management tool). In HubSpot, you can track every stage of the buyer journey.
Contact histories can show the original source of the lead (organic search, paid search, social media, etc.), proving ROI on your marketing investments.
Create lists to organize and segment your leads to curate your marketing messages, showing your contacts the right information at the right time.
Create and embed forms with progressive form fields that change if it detects that the user has already answered a question. Learn more about your customers and prospects without being obtrusive.
Create deals to track sales prospects and move them along the pipeline. Track your deals from appointment creation all the way to deal close.
Pull reports to see your deal stages, revenue, contact sources, and more. Easily share report data to your sales and marketing teams with Dashboards that can show the metrics they care about.
HubSpot offers three subscription levels, allowing your business to scale as it grows. Interested? Let's talk.
Blue Sky's Top 5 HubSpot Implementations
How has Blue Sky Marketing demonstrated excellence in implementing HubSpot for our clients? Here are a few of our favorites.
#1. Creating Email Automations Based on Home Price Searches
Our team created workflows that automatically serve emails to a segment based on visitor website activity. For some of our homebuilder/developer clients, our automation triggers based on the home price range the website visitor searches for.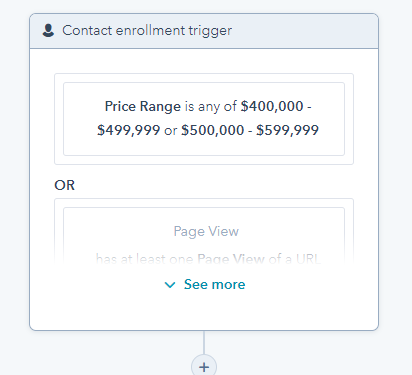 The subsequent email sent to this segment is then served to the prospect instantly, giving them valuable information at the exact moment they are interested in learning more about it.
#2. Creating Custom Ads Audiences via the HubSpot Integration
Our award-winning Facebook team can use HubSpot lists to create custom audiences and remarketing audiences in Facebook Ads. This direct integration means that the custom audiences are refreshed in real time as HubSpot collects more leads, giving our clients more touch points during the buyer journey.
For example, we built a custom audience based on home search activity on the website, serving content to these leads which were focused on inventory vs lifestyle information. The integration also allows us to show revenue generated from ads when these leads convert.
#3. Tracking Influenced Contacts and Revenue
Implementation of HubSpot's "Campaign" feature has allowed the Blue Sky team to show the number of leads influenced by a specific campaign.
For example, by assigning specific email assets, workflows, Facebook ad campaigns, and Google ad campaigns to a specific event campaign, we were able to report that the campaign delivered 2 closed deals, and 64 contacts who engaged with the campaign (influenced contacts).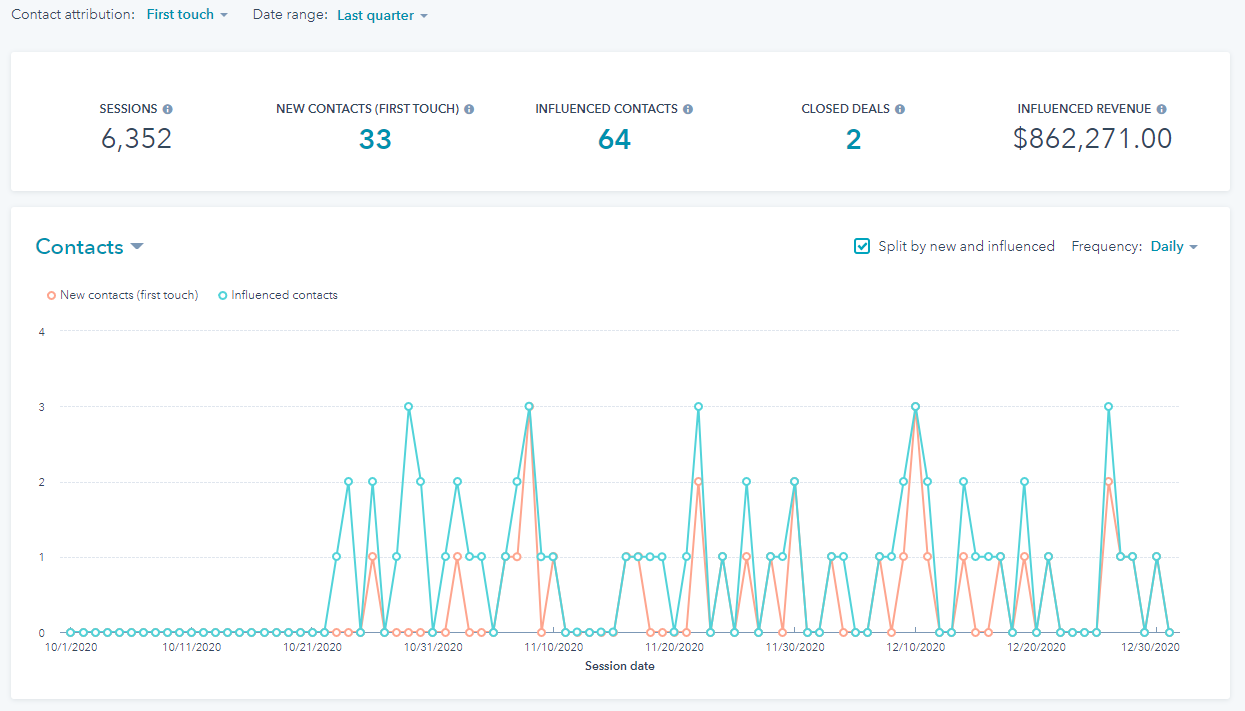 #4. Award-Winning Specialized Email Welcome Series
Blue Sky Marketing has always been an advocate for email drip campaigns, a series of emails that introduce your subscribers to different aspects of the brand and theoretically pushing them further down the funnel.
In HubSpot, it is easy to create a welcome series for just a specific segment of buyers with a niche interest. For a 55+ Active Lifestyle Community, our team created a drip campaign of a series of seven emails served over a longer period to maintain contact and interest between development announcements.
The campaign achieved benchmarks far higher than industry averages, and the drip campaign earned a Silver Award at the International Builders' Show (IBS).
Average open rate: 38.37% (Industry average: 21%)
Average click rate: 15.07% (Industry average: 2%)
Builder Leads Rate: 12.5% (73 out of 585)
Sales from Online Sources: 17 sales (half of initial sales)
#5. Custom Reporting Dashboards
Our close relationship with our clients means that we identify the metrics that matter to you and assist in building your reporting Dashboards.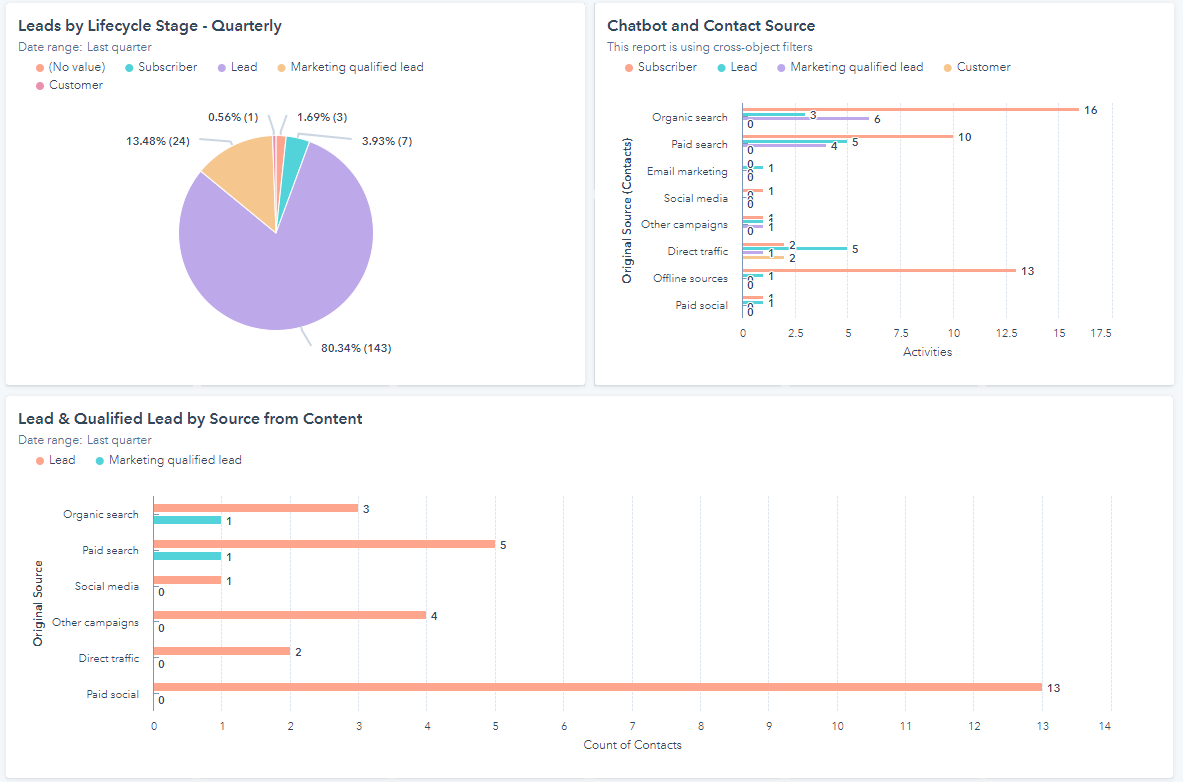 The Blue Sky Team also has a dedicated HubSpot support team to identify other ways to optimize the way you report data and stay on top of new releases in HubSpot's reporting tools.
How to Get Started with HubSpot
Blue Sky Marketing has a proven track record of helping developers and builders grow with HubSpot tools. If you'd like to explore the possibilities, book some time to chat. Let's talk about you.
Explore our Blog
The Archives
2021

---

2020

---

2019

---

2018

---

2017

---

2016

---

2015

---

2014

---

2013

---

2012

---

2011

---

2010

---