How Did We Celebrate 10 Years of Blue Sky Marketing?
August 25, 2020

What does a firm specializing in digital marketing do when it turns 10 during a pandemic?

Take the celebration virtual.

Blue Sky Marketing did exactly that in a full-fledged celebratory campaign that stretched over 10 days and included daily eblasts, social media posts and games while also supporting local charities. Watch our 10th-anniversary videos on YouTube.

"We wanted to throw a party much like what we did for our fifth anniversary, but with the pandemic, the timing just wasn't right," said Michelle LeBlanc, Founder and Chief Marketing Strategist of Blue Sky Marketing. "Instead, we celebrated our clients and team members all while having a little fun."

Daily emails were the foundation of the campaign with more than 33,000 emails delivered from Aug. 1-10. The emails touted Blue Sky Marketing services, as well as client successes, and drove people to the website where they could play an online game of Bingo where everyone could win. Veering from the normal game, the Blue Sky version asked people to take action — write a marketing-related Haiku poem and share it, share a photo of a favorite quarantine moment, read a post from the Blue Sky Marketing blog, give to a local classroom via DonorsChoose.org, and more. Those who completed five tasks in a row won a prize.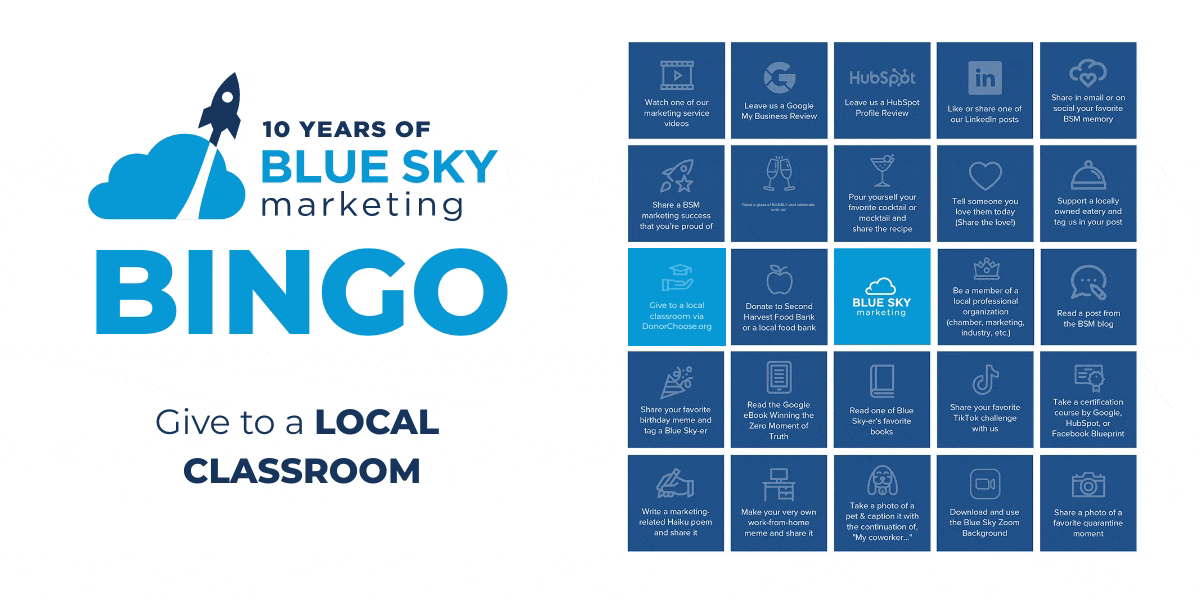 Complementing the email campaign, Blue Sky Marketing posted team photos and client successes on LeBlanc's and the company's Facebook, Instagram and LinkedIn pages. Culminating the celebration was a Zoom party with 35 people that also included prize-yielding games of Bingo. The final, overall prize was a $500 gift to the charity of the winner's choice.
"It was good to see everyone's faces — several of whom we haven't seen in months," LeBlanc said. "We also spied a couple of spouses, five dogs, a moose with her calf and seven kids as nearly everyone played from home."
LeBlanc founded Blue Sky Marketing in 2010 after 16 years of working in upper management for branding and marketing consultancies.
"I like to say it was founded on a rooftop deck with a cocktail in one hand and infinite possibilities in the other," she said. "With a blue sky overhead, it was onward and ever upwards."
One month after that fateful deliberation, Blue Sky Marketing was providing services to its first client — Buc-ee's. Other clients soon followed and now the company serves a variety of industries, from restaurant and hospitality, to professional services to real estate. Services include marketing strategy, website development, SEO, social media marketing and advertising, PPC, marketing automation, creative design and content development.
"We're a team of 14 digital marketing professionals that are spread throughout the nation," LeBlanc said. "Because we employ a 100 percent remote work model, we can hire the best talent regardless of location."
Explore our Blog
The Archives
2020

---

2019

---

2018

---

2017

---

2016

---

2015

---

2014

---

2013

---

2012

---

2011

---

2010

---