The Four Pillars of Inbound Marketing
July 12, 2019

Inbound marketing is about delivering solutions and creating opportunities that will ultimately have a positive impact on your business and your goals. Your strategy can include a number of different marketing channels and solutions to connect to your prospects and ultimately to engage your customers.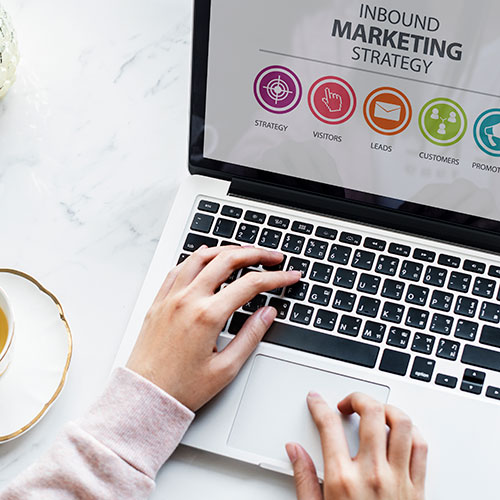 It's just not enough to have a website – you must attract people to it. What's the best way to do this? Below, we will outline the four pillars to staying top of mind for your customers and prospective audience. Utilizing these principles will grow your pipeline, lead to conversions, create brand awareness and strengthen your overall reporting.
1. Attract
This is where you show your prospects that they can trust you. You build a rapport and ask important questions. Can you help them solve their problems? If so, can you put them at ease? Can you make it easy to book time on your calendar?
The primary objective is to create awareness and place yourself in front of your prospects – let them know who you are and what you do. You want to attract visitors to your website and show them valuable content that may be helpful. Do you have industry-specific questions that you can address?
Attract Tools: Calling Prospects, Email Templates, Meeting Scheduling, Conversational Bots (Chatbots)
2. Convert
After you attract qualified marketing leads, you want to now convert them into customers. This is where you want to have lead forms, newsletter subscriptions, among other areas where your contact can opt-in to your communications. You want them to be willing to share their email address, name, and other important details that give you more insight on how you can help turn them into a customer. Be sure to look at your analytics and see where they are coming from – Google Search, social media, or a blog post? This can be important in the discovery phase of your engagement. You finally got the digits – or email address – for this purpose.

Congratulations – you now have an inbound lead in your hands. While this is a wonderful opportunity, be sure to engage in a way that lets you can stay in front of your lead.
3. Close
We all want to close the deal. So, what is the best way to do this? It's really a numbers game. How many leads do you need to turn into paying customers? You want to give them the requested information and assist them along the way, without sending too many disruptive or spammy messages. We want them captivated by your messaging. Don't get email happy, because, with one un-subscribe, you have just lost that opportunity. Be sure to look in your CRM and track behavior to see how you can best serve and ultimately close this opportunity.
Close Tools: Sales Pipeline, Videos, Playbooks, Email Sequences, Sales Automation
4. Delight
What is the first thing that you think about after leaving your favorite restaurant? Besides the fact that you are pleasantly full, you may want to leave a Google Review or share the dinner on social media, or even share with your neighbors. You know that you have reached the delight stage when you turn your customers into promoters and raving reviewers.
Oftentimes, this is the most overlooked stage. How much of your business comes from repeat or referral business? If your customers are happy, there's an opportunity to incentivize them or engage them in a referral opportunity that benefits both your customer and your bottom line.
Delight Tools: Quotes, Sales Automation, Smart Notifications, Conversation Inbox, Conversation Routing
---
6 Steps To Get Started With Your Inbound Marketing
Wouldn't it be nice to have a waiting list for your senior living community? We know the path that can help you communicate with your prospective residents and families. Download our guide today.
If you are looking to attract leads to your business and nurture those that are already customers – following the Inbound methodology can assist you by making it easier for people to find you and create a pleasant sales process – so that it's truly a delightful process for each of you.
Let Blue Sky Marketing Help
If you need help with your inbound marketing, marketing automation, or want to talk about what our team can do for your senior living community, schedule a call with Michelle LeBlanc, founder and chief marketing strategist at Blue Sky Marketing.
---
Explore our Blog
The Archives
2023

---

2022

---

2021

---

2020

---

2019

---

2018

---

2017

---

2016

---

2015

---

2014

---

2013

---

2012

---

2011

---

2010

---