Joining a Distributed Virtual Team of Marketers
June 26, 2019

Imagine doing what you love – while sitting in a location that allows you to be creative, flexible, and work while feeling uninhibited. Let's say that you prefer to begin your day at 5 am and take a 30-min jog during lunch? Instead of getting dressed in heels and fighting traffic to get into the office, you walk into your home-office, coffee shop or local co-work space. This is how I imagined my ideal position before joining Blue Sky Marketing.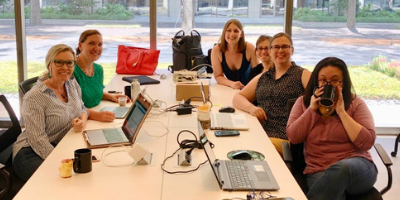 While some may enjoy the routine of swiping your fob at 8 am, taking a one-hour lunch and walking out the door at 5 pm, I find that working for a distributed company allows me the creative space to be productive, feel supported by a multi-faceted team, and still make it to my child's school performance or travel to see family.
For those of you that haven't experienced a game-changing work environment, I'm sorry. It's truly one of the best decisions that I've made. While I can already hear comments about time-management and deadlines, and distractions, the truth is, I've never been held more accountable.
Our team is comprised of designers, ad experts, SEO junkies, content enthusiasts and developers that write code in their sleep to help us optimize our clients' sites. Having a fully-functioning team that all communicates in a central location (thanks, Asana), allows our team to work in a beautiful workflow to achieve our clients' goals – and even have some incredible discussions that yield out-of-the-box thinking.
I've had the opportunity to work alongside my team in a way to better understand what they do in their roles, how they prefer to receive that information, and how we can work together effectively to create marketing campaigns that make others stand in awe.
For those on our team that work better around people, we utilize co-working spaces – and invite one another to join us during some client collaborative meetings. Other times, we use Google Hangouts to see each other and talk through creative solutions.
I love having the ability to see all of the moving parts for our clients, and the detailed notes on a particular phase of a campaign, or industry standard best-practice. This allows me to 'jump' into a past interaction with a client, or look through notes on a strategic social campaign to better inform myself as a newly onboarded employee.
Can you imagine having templates, pre-drafted emails, and a structure for the processes and performance objectives in your new role? This exact set-up has empowered me to learn and develop in my new position, without having to ask 100 questions to my team. I've probably still asked 30+, but it shaves off time that would otherwise be necessary.
At the end of the day, we all want to combine our passions and goals and have an incredible work-life balance. I never thought the key to that freedom, would be joining a virtual distributed team.
Since joining the team, I've felt an incredible sense of collaboration, loyalty towards my company, creative expression that has come from sitting at a Starbucks, or officing in a co-work space with a developer, all of which has yielded to a better understanding of each of our roles. I've tried new foods in spaces that have amazing wi-fi, people watched to further develop personas, and even felt incredibly inspired while presenting to a client on the phone wearing pjs and heels. Never underestimate the power of heels.
For now, I will trade in those heels most days for comfortable shoes and collective working.
I bet you're wondering what tools we utilize to achieve a successful team? Here's some of our platforms that work well for our team.
Google Hangouts / Chat
HubSpot
Asana
Dropbox
Google Docs
DISC Profile Assessments and Team Reports
Gmail
Google Meetings
Phone
Fax (just kidding)
Business Lounges and flex co-working spaces
Team shared calendars
Do you have apps that lift your team to new levels? We would love to hear about them. Please, share away.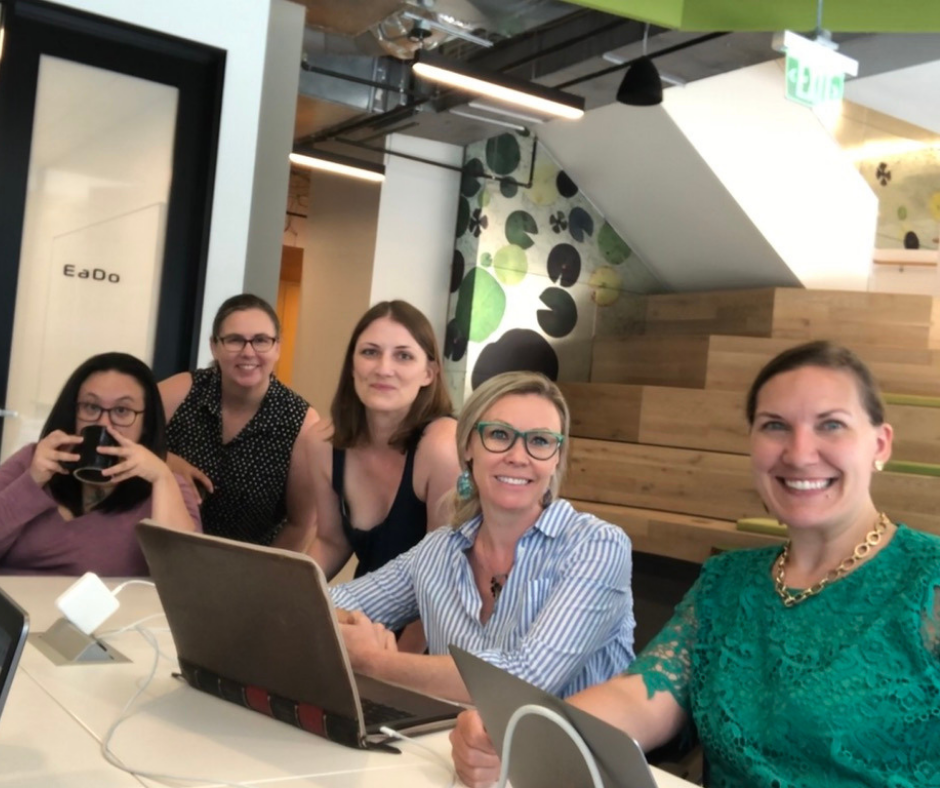 I'm Lauren, a passionate content creator, lover of street art, an empath at heart, and a sriracha enthusiast. In my spare time, I take care of three tiny humans and can fold laundry like it's on sale at Target. I represent a diverse skill set, and can rap like it's my day job.
Looking to add strategy behind your marketing efforts? Contact Blue Sky Marketing to discuss your needs.
Explore our Blog
The Archives
2021

---

2020

---

2019

---

2018

---

2017

---

2016

---

2015

---

2014

---

2013

---

2012

---

2011

---

2010

---