How to Optimize Your Site for Voice Search
May 20, 2019

Once upon a time, you had to scream into your phone in attempt to make the robotic voice on the other side sort of understand you. Now people casually talk to Google, Siri, Alexa, or Cortana like friends in order to end fights about trivia, to name that tune, to find places near them, and so much more. You can optimize your site to be more voice search friendly.
What is Voice Search?
Voice search is when a user speaks into a device instead of using a keyboard to type keywords into a search query to get results. There are more devices now than ever before that are capable of voice search including: phones, tablets, Amazon Echo, Google Home, speakers, lighting, thermostats, and just about anything else you can imagine. According to the keynote that Google CEO Sundar Pichai delivered, one-fifth of the queries on Google are voice searches. It's due to the advances in A.I. and machine learning that make voice search results to these devices more accurate than ever before.
How is Voice Search Increasing?
Just about everyone walks around with digital devices in their pockets, purses, backpacks, and other bags and the major search engine companies are taking advantage of this. All you have to do is ask one the digital assistants to find restaurants nearby, find highly rated plumbers in your area, find what events are happening in your area, etc. For these types of local searches, Amazon Alexa uses Yelp, Google uses Google Maps, Siri uses Apple Maps, and Microsoft Cortana uses Bing Maps.
All you have to do is press a button or call of your digital assistant's name to find the information you are looking for without ever looking at a screen. Overall, people are using voice search to complete an action—such as finding information on a subject, playing a song, purchasing a product, setting a reminder, or making a phone call.
Why Does Voice Search Matter?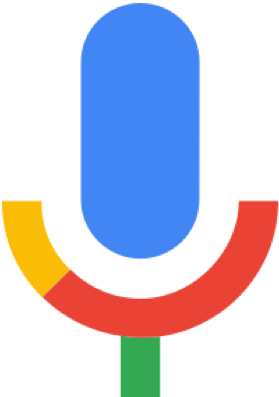 People are looking for fast answers with voice search and website owners can easily provide those answers to increase traffic to landing pages. Optimizing for voice search helps to improve your ranking on search engine result pages (SERPs) which helps improve the user experience for consumers. Google uses the same algorithm to rank your site for voice and keyword search.
Using voice-only searches allows people to browse the Internet more without having to actually scroll through site links on their desktops or on their mobile devices. This trend means that traditional keyword queries to generate results are changing. To find the information they are looking for, 55% of teens and 41% of adults are using voice search more than once a day. This is likely to keep increasing with the ongoing technological developments on digital assistants.
Voice Searches for the Results Page
Traditionally, conducting keyword searches on your desktop generates 10 linked sites per page. On a mobile device, voice search shows only the top three results. Smart speakers only generate one result in voice search and reads it to you.
Algorithms for Voice search results are most often looking at the snippets/fold snippets to provide good answers. The snippet is essentially a summary answer from a site. For desktop search listings, the Featured Snippet appears before the regular search listings but after the paid ads in what is referred to as position 0, as answer box, or quick answer. The Feature Snippet is important for the smart speakers since it only reads one result.
There are things you can do to optimize your content for becoming an identifiable Featured Snippet. Include a summary of your main content above the fold using about 29 words. When you're writing content use long-tail keywords that can help answer questions just like adding keywords for traditional search engine optimization (SEO). The snippets are there to provide good answers.
Google has more recently rolled out Featured Video Snippets. If you have video content, this should be optimized as well using long-tail keywords to help them show up in voice search. These long-tail keywords are very important to use in the title of your video. Make sure that you also have a description for the video. Most importantly make sure your older videos are updated with this optimization to help them rank better on Google.
Optimize Your Site Content for Voice Search
Optimizing for voice search involves optimizing your content and brand information to increase your likelihood of generating voice search results. Using typical SEO is still great for optimizing content, but with some tweaks for voice search your content can get even better.
Audience

– Think about how your audience talks about your product, business, etc. to develop content with an informal tone. Avoid using jargon.

Look at the questions customers ask and the language they use to help you create content that answers questions like a FAQ page. Find the natural language keyword phrases that your target audience is most likely to ask.

Long-Tail Keywords

– Focus on using long-tail keyword phrases in your content, using 5+ word terms.

Embed the long-tail keywords throughout your content.

New Content

– New content should focus on questions because people are asking their digital assistants questions.

Create blog posts answering your customer's questions.

Videos

– Make sure your videos are optimized with long-tail keywords and descriptions.

Website Backend

– Use descriptions of the surrounding neighborhood, such as near me in title tags and meta descriptions, landmarks around your business, titles of local institutions, etc.
Optimize Your Site for Speed and Digital Devices
Optimizing the content of your site is not the only thing that need to be done. There are some areas that can help increase conversions and rankings
Mobile Devices

– Make sure your site is mobile-friendly.

Speed

–

Make sure your site is fast.

Test different devices

– Testing more than one device will help you see that results are there, how many listings are offered, where you rank for your most common questions, where your competitors are ranking, etc.
Optimize Your Business Listing
It's easy to remember to keep your content fresh and your site speed fast. You shouldn't forget to keep your business listing up to date with a few adjustments.
Business Listing

– Make sure your business name, address, phone number, and hours are consistent and up-to-date.

This relevant business information should remain above the snippet/fold.

Google My Business

– Claim your

Google My Business

listing.
Start Optimizing for Voice Search and Contact Blue Sky Marketing Today!
Get ahead of your competition by incorporating voice search optimization into your site.
Blue Sky Marketing are experts in evaluating existing sites for speed issues and in digital marketing to help develop your forward-looking SEO strategy.
Contact us today to see how we can do for your business.
Explore our Blog
The Archives
2019

---

2018

---

2017

---

2016

---

2015

---

2014

---

2013

---

2012

---

2011

---

2010

---