Blue Sky Marketing Ranks No. 967 on 2017 Inc. 5000
August 24, 2017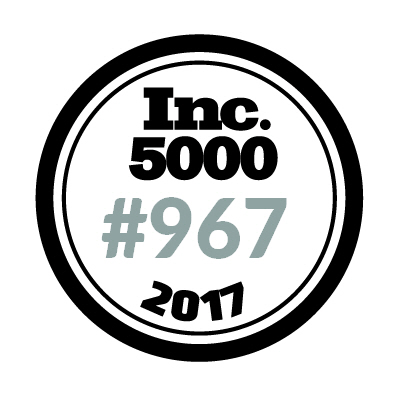 The Houston-based marketing agency recorded a three-year sales growth of 488%.
Inc. Magazine ranked Blue Sky Marketing No. 967 on its 36th annual Inc. 5000, the most prestigious ranking of the nation's fastest-growing private companies.
The list represents a unique look at the most successful companies within the American economy's most dynamic segment — its independent small and mid-sized businesses. Companies such as Microsoft, Dell, Domino's Pizza, Pandora, Timberland, LinkedIn, Yelp, Zillow and many other well-known names gained their first national exposure as honorees of the Inc. 5000.
"This announcement comes at an exciting time for Blue Sky Marketing and our clients," said Michelle LeBlanc, Founder and Chief Marketing Strategist at Blue Sky Marketing. "Our company has seen tremendous growth in the past three years. I want to thank our team of fantastic professionals and our wonderful clients. Many more blue skies are waiting ahead, and we'll keep on going onward and upward to reach them."
The 2017 Inc. 5000 rankings were unveiled online at Inc.com. To qualify for the Inc. 5000, companies must have been founded and generating revenue by March 31, 2013, with at least $100,000 in revenue for 2013 and $2 million for 2016. They must be independent, privately held, for-profit companies based in the U.S. Complete results of the Inc. 5000 — including company profiles and an interactive database that can be sorted by industry, region, and other criteria — can be found at www.inc.com/inc5000.
Blue Sky Marketing is a full-service marketing agency providing marketing and business development strategy, online marketing planning and marketing communications execution. The profile for Blue Sky Marketing is available at https://www.inc.com/profile/blue-sky-marketing.

About Blue Sky Marketing
Founded in 2010, Blue Sky Marketing provides strategic marketing consulting with a focus on proactive communication and relationship-building. We guide companies through the world of marketing strategy to craft marketing plans and choose tools that work for their business today and tomorrow. With a staff of 13 employees, the company provides marketing and business strategy development, as well as implementation support. Blue Sky Marketing has won 11 marketing and advertising awards from the AMA and AFA, has earned Google Premier status, has been recognized with HUB status, and has ranked #967 and No. 15 in the Houston Area on the 2017 Inc. 5000.
More about the Inc. 5000
The 2017 Inc. 5000 is ranked according to percentage revenue growth when comparing 2013 to 2016. To qualify, companies must have been founded and generating revenue by March 31, 2013. They had to be U.S.-based, privately held, for profit, and independent—not subsidiaries or divisions of other companies—as of December 31, 2016. (Since then, a number of companies on the list have gone public or been acquired.) The minimum revenue required for 2013 is $100,000; the minimum for 2016 is $2 million. As always, Inc. reserves the right to decline applicants for subjective reasons. Companies on the Inc. 500 are featured in Inc.'s September issue. They represent the top tier of the Inc. 5000, which can be found at http://www.inc.com/inc5000.
Need a new marketing partner?
Explore our Blog
The Archives
2020

---

2019

---

2018

---

2017

---

2016

---

2015

---

2014

---

2013

---

2012

---

2011

---

2010

---