Takeaways from BrightonSEO: Voice Search and Local SEO
May 18, 2017

BrightonSEO is a biannual event gathering some of the best and brightest minds in SEO and digital marketing to discuss the newest trends and knowledge in the industry.

After live streaming the event several times in the past, I was finally able to attend for the first time this past April. Other than being set in a beautiful location and enjoying some much-needed sunshine, there was also time to discuss the trends taking place in SEO.
Voice Search is the Future
An overarching theme of the conference was the importance of voice search in the future. In general, devices with voice assistants are becoming more and more popular, enjoying a 140% YOY increase in 2016. Need further proof? The Amazon Echo was the best-selling product for the entire YEAR on Amazon. Plus, think of how many items already include this functionality: phones, tablets, cars, etc. It is estimated that by 2020 some 50% of all searches will be voice searches.
Voice search will fundamentally alter how users search, with users often doing question based queries rather than keyword based queries. For SEO, this means we need to start looking beyond 10 blue links on page one. The real target is to get into the knowledge graph. Look at the example below from a mobile phone for the query "What's the best Barbecue in Kansas City?":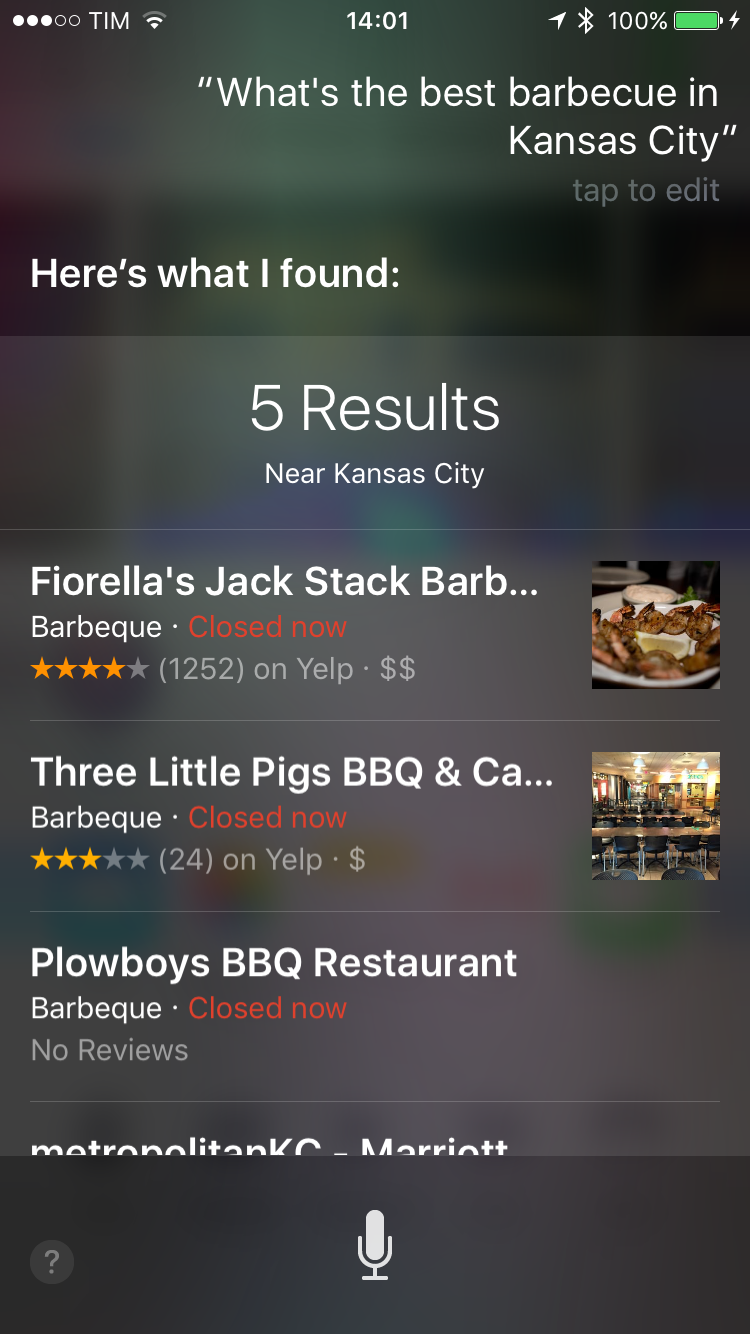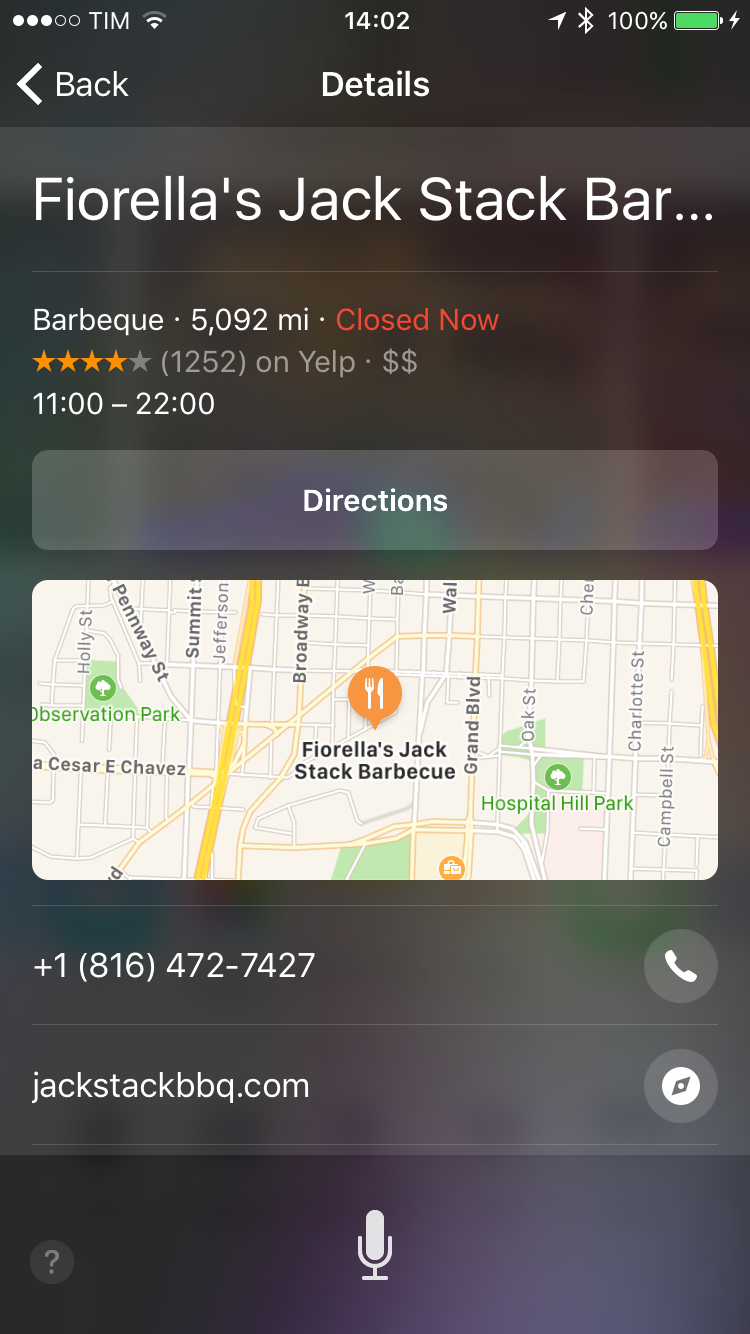 The items that appear on the screen vary wildly from the traditional ten blue links everyone is used to. Voice search relies heavily on optimized business information, not just from your Google My Business profile, but also from third-party sites such as Yelp, Booking.com, and more.
What does this mean for you? Your monitoring window just got a lot larger. If you are only focusing on your website and letting your business listing organically populate, switch strategies now.
Dominate Voice Search with a Strong Local SEO Strategy
Google has long been personalizing and localizing search results based on factors such as location, browsing history, and more. Because voice search is heavily pulling on your location meta data, ensuring this information is correctly optimized is the best way to dominate voice search.
Third-party reviews are key for searches that include "best," "top," "cheap" and other modifiers people may use. Google will parse third party reviews and pull out these keywords to rank your site accordingly. Use an on-site sign to encourage people to leave reviews and engage with your customers face-to-face as well.
Data indicates that these outside social profiles receive 2-5x more views than the client's actual website. A service such as Yext or BrightLocal will allow you to monitor your business listing across several sites at once and easily keep your information up to date. As voice search grows, keeping this information accurate will be even more important.
In addition to monitoring third-party reviews, correctly categorizing your business on Google My Business is another key element for optimization.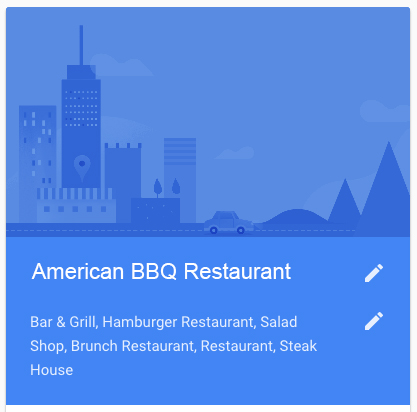 For many locations, category confusion is a big source of penalties from Google. On Google My Business, clients have the ability to set their business category. Say you have a barbecue restaurant and manage the Google My Business page. You probably thought it was a good idea to optimize your category listings by listing yourself as a BBQ restaurant, Bar and Grill, Restaurant, Steak House, and more because the more the better, right? Wrong.
When it comes to listing your business category on GMB, you want to choose the single category that best matches your business offerings. Ask yourself where your primary source of revenue comes from and adjust your category accordingly. The reasoning here is that Google wants to offer the absolute best results for any given search.
If you wanted barbecue, a restaurant result that populates with the sole categorization of "barbecue" would probably seem more enticing than one that populated for sandwiches, salads, and tacos. Most consumers assume a business that does one thing does it well, and so does Google. Plus, by adding more categories, you are also increasing your competition. Don't compete with all the specialized sandwich shops in town just because you have the one offering on your menu. Keep it simple.
Let Blue Sky Help You Navigate the Future of SEO
The team at Blue Sky Marketing are digital marketing experts who can help develop forward-looking SEO strategy to drive your desired business goals.
Contact Blue Sky Marketing today to discuss what we can do for your business.
Explore our Blog
The Archives
2023

---

2022

---

2021

---

2020

---

2019

---

2018

---

2017

---

2016

---

2015

---

2014

---

2013

---

2012

---

2011

---

2010

---